What Fife Council is doing
We're delivering our Climate Fife Action Plan through all of our work. It's a flexible document that sets out how we will work with our partners and communities over the next 10 years to become:
Climate friendly, transforming how we live to become carbon neutral;
Climate ready, helping Fife communities and the economy minimise any impacts from unavoidable climate change; and
Climate just, making sure all Fifers and our environment benefit from this transition.
Work on the go right now includes:
replacing all Fife's street lights with energy efficient bulbs reducing associated carbon emissions by over 40%.
expanding the electric vehicle charging network across Fife. This nearly doubles the current provision and will make it easier for Fifers and those visiting to move to electric vehicles. 1200 people used the electric car chargers last year. 500 users live in Fife.
increasing the number of electric cars in the council's fleet.
reducing the amount of waste sent to landfill, Fife currently recycles 54.7% of waste.
replacing single-use plastics with reusable products in Fife Council buildings.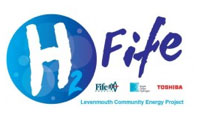 H2 Fife is an innovative project, delivered by key partners Bright Green Hydrogen, Toshiba and Fife Council, to create hydrogen fuel for travel and heat
It demonstrates how locally produced hydrogen can reduce both CO2 and toxic emissions, vital for meeting Scotland's climate change targets. The project looks to increase economic growth and reduce fuel poverty in Levenmouth.
Back To Top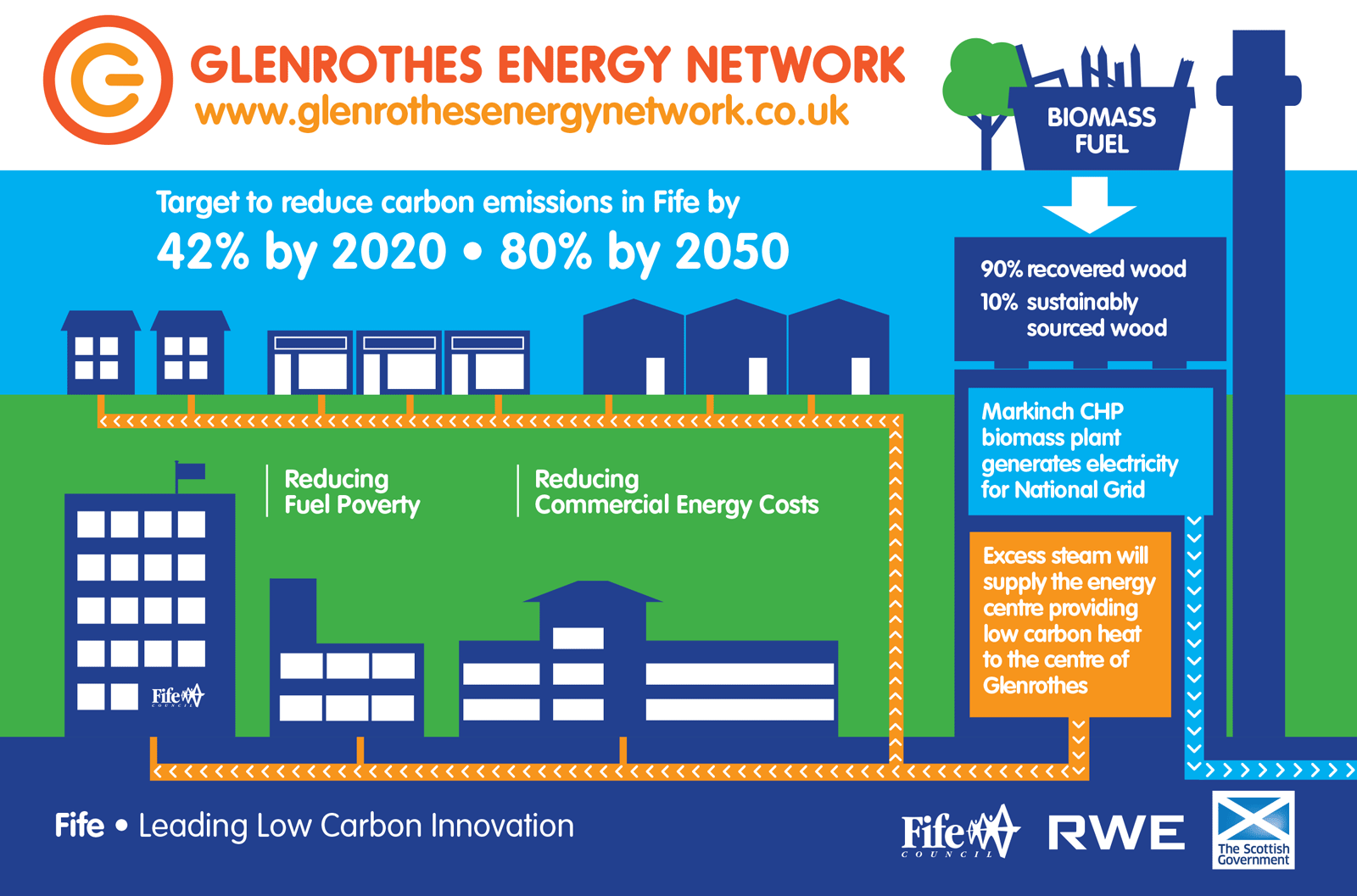 Fife Council is working with RWE and the Scottish Government on the Glenrothes Heat Network project . The project has completed phase 1. Construction of the heat centre and network are complete. The heat from the RWE's biomass Combined heat and power (CHP) plant supplies low carbon heat to business and houses within the Glenrothes town centre. This helps to prevent fuel poverty and climate change. Total costs are projected to be £23.911 million.
Find out more about Glenrothes Energy Network
Back To Top
Energy Park Fife is a world leading engineering and research zone within the renewable energy sector. It's location in Fife gives companies easy access to the North Sea as well as global regions.
A joint venture between Scottish Enterprise and Fife Council, Energy Park Fife encompasses a 55 ha engineering site, Methil Docks, Methil Docks Business Park and Low Carbon Investment Park. It includes the largest Open Access Wind Turbine - owned and operated by ORE Catapult
It is ideally suited for a range of marine energy activities, in particular; manufacturing, fabrication and engineering, research & development and operations and maintenance.
Find out more about Energy Park Fife
Back To Top
How we're doing
Every year we report our progress to the Scottish Government on Fife Council's own carbon footprint and the measures we are putting in place to reduce it.
https://sustainablescotlandnetwork.org/reports/fife-council
Reference documents and links
Carbon Management Plan
Fife Local Biodiversity Action Plan
Fife Shoreline Management Plan 2011
Sustainable Drainage Systems (SuDS) - Design Criteria Guidance Note
Fife Council Local Transport Strategy (2002 - 2026)
Local Climate Impacts Profile (LCLIP)
Physical Activity, Sport & Cycling in Fife
Fife Council Climate Change Adaptation Framework 2010