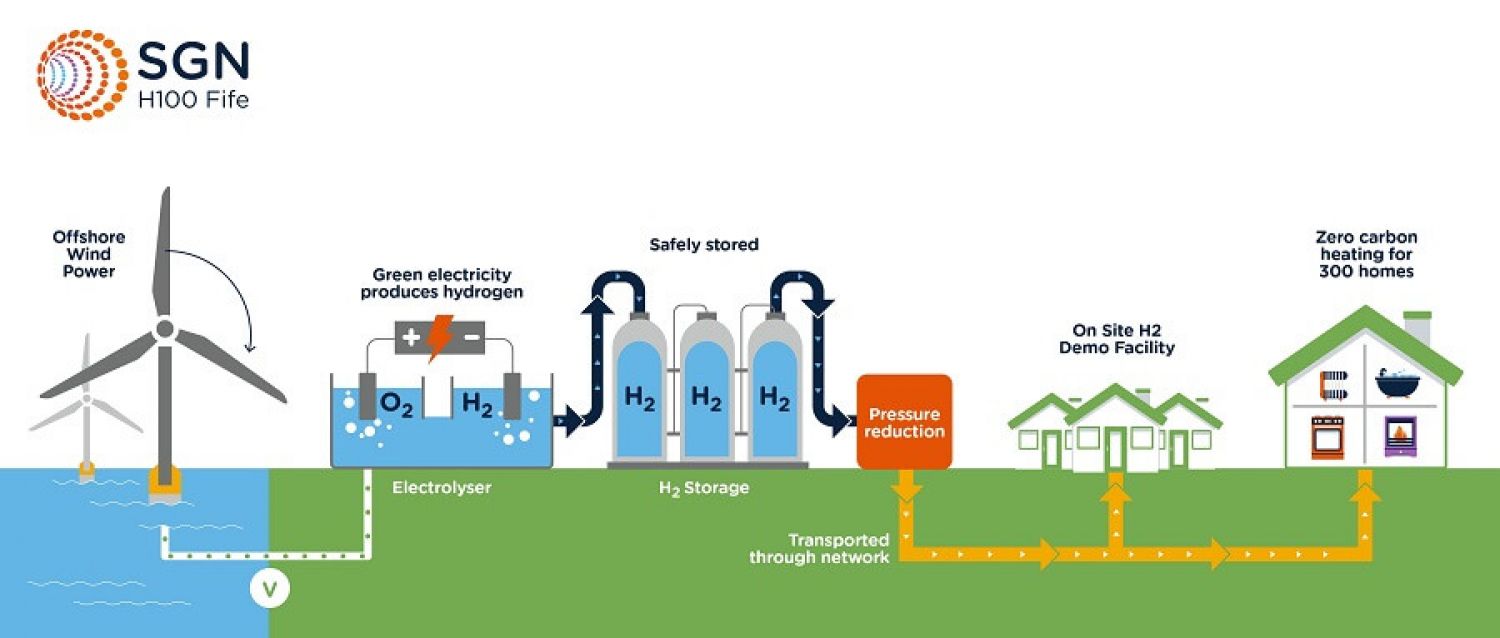 New green project set to heat Fife homes
Levenmouth hydrogen heating network is in progress.
Gas distribution company SGN is working closely with Fife Council to bring H100 Fife to Levenmouth - the world's first 100% hydrogen-to-homes heating network.
The project is the first of its kind to directly supply clean power to produce hydrogen gas for domestic heating as a green alternative to natural gas. SGN will offer renewable hydrogen to homes, which can be used in the same way as natural gas, with the benefit of being a zero-carbon fuel for heating and cooking.
Hydrogen gas produces no carbon emissions at the point of use and could play a key role in tackling the climate emergency.
In the first phase, the network will heat around 300 local homes using clean gas produced by a dedicated electrolysis plant, powered by a nearby offshore wind turbine.
Eligible households, including local Fife Council tenants, will be invited to participate in H100 Fife. Householders in the network area can choose to participate by opting-in for a hydrogen supply, or equally can choose to remain with their existing natural gas supply.
SGN's demonstration facility will allow potential customers to see and experience hydrogen appliances in a home-like environment – fitted with hydrogen cooking appliances and boilers - to help inform their decision. Local people will be invited to various project engagement events including visits to the hydrogen demonstration facility in 2022, ahead of the hydrogen gas network going live in 2023.
The first 300 customers joining the project will receive a free hydrogen connection, free replacement hydrogen appliances and free maintenance over the length of the project. Customers will pay the same amount for hydrogen gas as they would for natural gas.
SGN will keep local communities in Buckhaven and Methil informed as the project progresses.
Get in touch
If you would like to talk with someone about H100 Fife, or live in Levenmouth and want to learn how to get involved, please contact: h100fife@sgn.co.uk