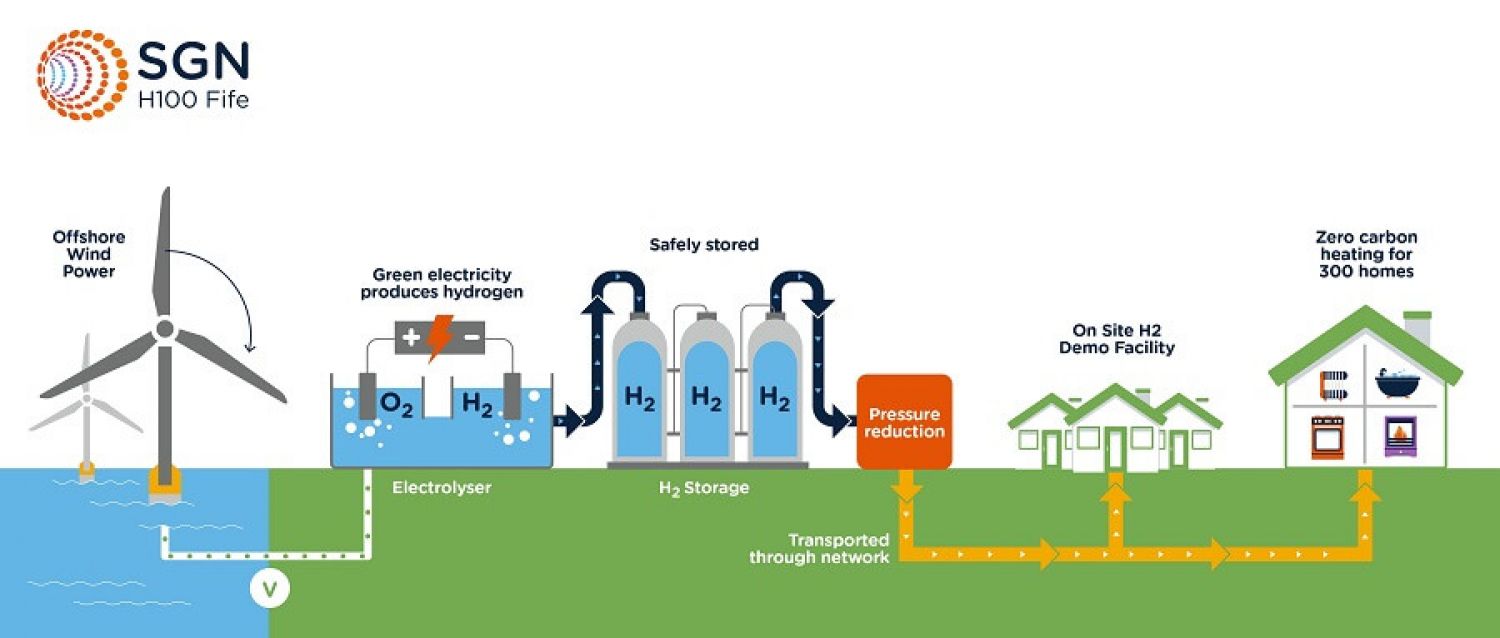 New green project set to heat Fife homes
Levenmouth hydrogen heating network is in progress. Gas distribution company SGN is working closely with Fife Council to bring H100 Fife to Levenmouth - the world's first 100% hydrogen-to-homes heating network.
The project is the first of its kind to directly supply clean power to produce hydrogen gas for domestic heating as a green alternative to natural gas. SGN is offering renewable hydrogen to homes, which can be used in the same way as natural gas, with the benefit of being a zero-carbon fuel for heating and cooking.
Hydrogen gas produces no carbon emissions at the point of use and could play a key role in tackling the climate emergency.
In the first phase, the network will heat around 300 local homes using clean gas produced by a dedicated electrolysis plant, powered by a nearby offshore wind turbine.
Eligible households, including local Fife Council tenants, are being invited to participate in H100 Fife. Householders in the network area can choose to participate by opting for a hydrogen supply.
Cllr Colin Davidson, Convener - Levenmouth Area Committee, said: "This is an exciting opportunity for Levenmouth. We're part of the world's first trial of green hydrogen to homes for heating, hot water and cooking. This puts Fife at the forefront of tackling climate change. "I encourage residents to find out more about this project and see if your property could make the switch to green hydrogen. To find out more go to https://www.h100fife.co.uk"
Jan Wincott, Spokesperson - Environment & Climate Change, said: "Heating in buildings forms a significant part of the UK's carbon footprint. To tackle climate change, changing the way people fuel their homes while making sure consumers pay a fair price, is vital so that we move away from using fossil fuels and cut carbon emissions.
"H100 Fife offers an opportunity for local people to adopt clean, green hydrogen technology. I am pleased that people in the trial area have another, more sustainable, choice about how to heat their homes."
"Hydrogen can heat homes in the same way as natural gas, meaning minimal change for customers in how they use gas for heating or cooking. H100 brings to life the potential of this green gas for keeping homes warm while minimising environmental impact."
John Mills, Head of Housing Services, Fife Council, said: "Fife Council is pleased to support the H100 Fife project. Using green hydrogen as a 100% renewable energy fuel source has the potential to assist in tackling climate change and energy security.
"We are here to support householders to make energy decisions that are best for them. Hydrogen energy can heat homes and cook food in the same way as we do now with natural gas. The difference is that it doesn't produce any carbon when it burns. SGN and gas specialists are designing hydrogen-supplied homes to be as safe as natural gas. This is a good opportunity for the people of Buckhaven and Methil to switch early to clean energy with SGN's support."
SGN's demonstration facility will allow potential customers to see and experience hydrogen appliances in a home-like environment – fitted with hydrogen cooking appliances and boilers - to help inform their decision. Local people are being invited to various project engagement events ahead of the hydrogen gas network going live.
The first 300 customers joining the project will receive a free hydrogen connection, free replacement hydrogen appliances and free maintenance over the length of the project. Customers will pay the same amount for hydrogen gas as they would for natural gas.
SGN is keeping local communities in Buckhaven and Methil informed as the project progresses.
To sign up or to find out more please visit www.h100fife.co.uk
Get in touch
If you would like to talk with someone about H100 Fife, or live in Levenmouth and want to learn how to get involved, please contact: h100fife@sgn.co.uk