Published Date: Feb 5th, 2021
This article is more than 2 years old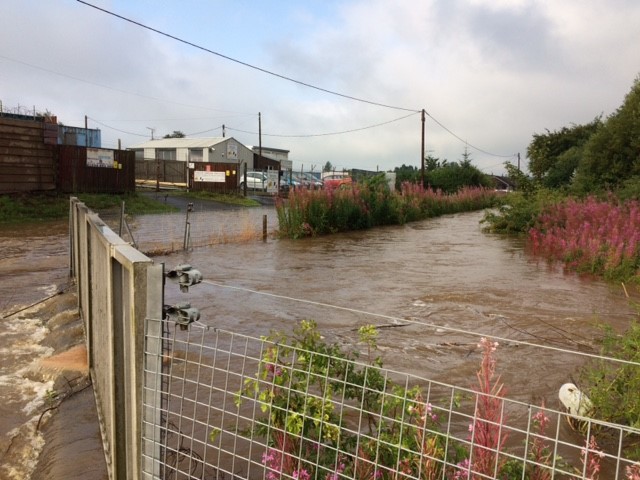 With weather warnings in place, Fife Council is providing advice and reminding everyone about actions that they can take to help protect their property, belongings and their family. For advice visit www.fife.gov.uk/flooding
Heavy rain over the past few days has resulted some disruption across the Kingdom. Fife Council teams are out and about delivering sandbags and supporting communities where flooding is known to be an issue and asking people to make preparations ahead of the weekend.
Head of Assets, Transportation and Environment Ken Gourlay commented: "Thankfully no properties were flooded last night but with continual rain forecast for the next few days we are working with communities to prepare.
"Teams are out delivering sandbags and we're doing all we can to minimise the risk of further flooding, clearing gullies and drains, checking water levels, and shoring up any weak points. Extra sandbags have been delivered and flooding pods have been restocked."
The council supplied residents in Kinglassie, Cardenden, Freuchie Mill and Strathmiglo with sandbags last night as water levels rose. There were also reports of flooding in Cairneyhill and Culross and some roads have been closed across the region. A landslip has also been reported at Dura Den and we're working to get this cleared. For the latest information on roads disruption check out www.fife.gov.uk before travelling.
Added Ken: "Our officers will be monitoring high risk areas over the weekend and into next week while the weather warnings continue." For advice visit www.fife.gov.uk/flooding
Advice and support
If you are at immediate risk of flooding, and you need help and support contact us between 8am and 6pm on 03451 55 00 11, option 4 (Roads and Transportation), or 03451 55 00 99 to report out-of-hours emergencies.
Up-to-the-minute information is also available from SEPA at www.sepa.org.uk/flooding or via the Floodline service on 0345 988 11 88.
If there is evidence of sewage, please call the Scottish Water emergency line on 0845 601 88 55.
Preparation
Know how to shut off power, gas and water supplies to your property.
Keep a list of useful contact numbers and check that your home and motor insurance policies provide adequate cover for flood damage.
Consider how to make your property more flood resilient when carrying out home improvements.
Install flood protection products such as airbrick covers or flood barriers and know how to fit them correctly – this could give you more time to move your possessions away from flood water.
Practical advice
Residents are expected to take reasonable measures to protect their own properties.
If you are at immediate risk of flooding contact us on 03451 55 00 11, option 4 (Roads and Transportation), 03451 55 00 99 (to report out-of-hours emergencies).
Call emergency services if you are concerned about your own safety or the safety of others.
If water is coming into your property use a bucket or large bowl to collect the water and contain it as much as possible with towels.
If your ceiling is bulging with water, try piercing a small hole in the bubble to release the water until a more permanent repair can be carried out. Remember to place a bucket or basin underneath the hole to collect the water.
If water is coming through a light fitting, leave it alone, and call an electrician to isolate the electricity to the light.
If drains are overflowing in your street, call Fife Council on 03451 55 00 11 or report it online at www.fife.gov.uk/roadfaults
If a whole street is under water and every property is affected, contact the Fife Fire & Rescue Service.
If you need sandbags - If a property is at immediate risk of flooding the public can contact the council on 03451 55 00 11 and they will be delivered. Sandbags can ​also be bought at most DIY stores.
Residents in flood-risk areas can access council-provided flood pods and use the flood sacks inside to protect their homes. Flood pods are discreet black boxes - like small sheds. These contain flood 'sacks' and flood 'snakes'. These pods are located where required for communities to use.
Residents should check that their insurance policy provides adequate cover, including building replacement, structural repairs and full contents including personal valuables.