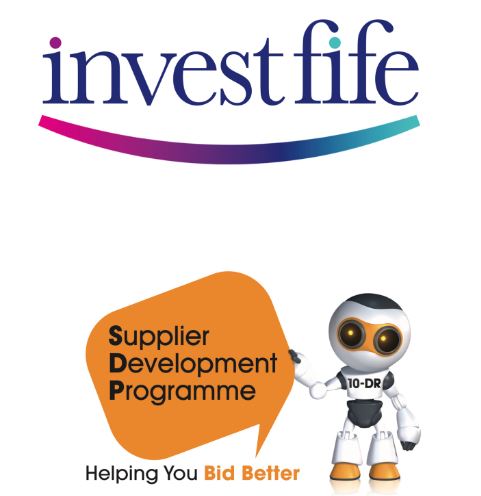 Under the banner of InvestFife, Fife Council's Economic Development Team hosted a virtual Meet the Buyer event on Thursday 5th November, as part of Fife Business Week 2020.
As businesses adapt to how they buy and sell, this virtual event, delivered by Fife Council's Economic Development Team in partnership with the Supplier Development Programme, brought together 258 participants to create new opportunities in the new 'normal'. Of those, 60 attendees were from businesses based in Fife.
Meet the Buyer showcased a range of contract opportunities currently available in Fife, across various sectors, including construction, offshore wind, renewables, and manufacturing. In addition to a warm welcome from Fife Council's Economic Development and Procurement teams, there were presentations from Talgo, EDF Renewables, SSE Renewables and Red Rock Power Limited.
Ann Camus, Enterprise & Business Development Manager at Fife Council, said: "The coronavirus pandemic has changed the B2B marketplace. We're all having to adapt, and so this year, we took our traditional Meet the Buyer event as part of Fife Business Week, online, to support businesses to realise contracts in the new 'normal'. Participants learnt about significant projects happening here in Fife and were able to find out how to be part of the supply chain.
"It was extremely encouraging to hear that over 250 participants took part in this event, and from a poll taken on the day, 86 per cent of those, believed the event would encourage them to bid for more public sector contracts."
Norrie Scott of NJS Lighting Solutions, LED lighting specialists based in Fife, said: "I found the virtual Meet the Buyer event very professional and informative. Delivering virtual events can be challenging, so well done to all involved!
"I was able to engage in a one-to-one with Talgo UK, whereby I will be following up on what we can offer in relation to the development of the site at Longannet, Fife with the contact details I got on the day. There are tough months ahead for all businesses but positivity for the future remains strong for Fife."
Talgo presented on opportunities to become part of its supply chain for works on its multi-million pound factory on the site of Longannet, whilst EDF Renewables updated local businesses on plans for Neart na Gaoithe (NnG) offshore windfarm, for which supply chain opportunities exist. Similar presentations were made by SSE Renewables and Red Rock Power Limited, with each of these companies, offering key insights into supply chain opportunities and those nuances that could support the procurement tender.
Jon Veitch, Managing Director of Talgo UK Ltd., said: "We were absolutely thrilled with the opportunity to contribute to Fife Business Week and especially the Meet the Buyer event. It is so heartening to see the capability and qualities of organisations from Scotland and Fife, which we hope to harness in the coming and lasting years."
Find out more about the support for businesses that we provide.