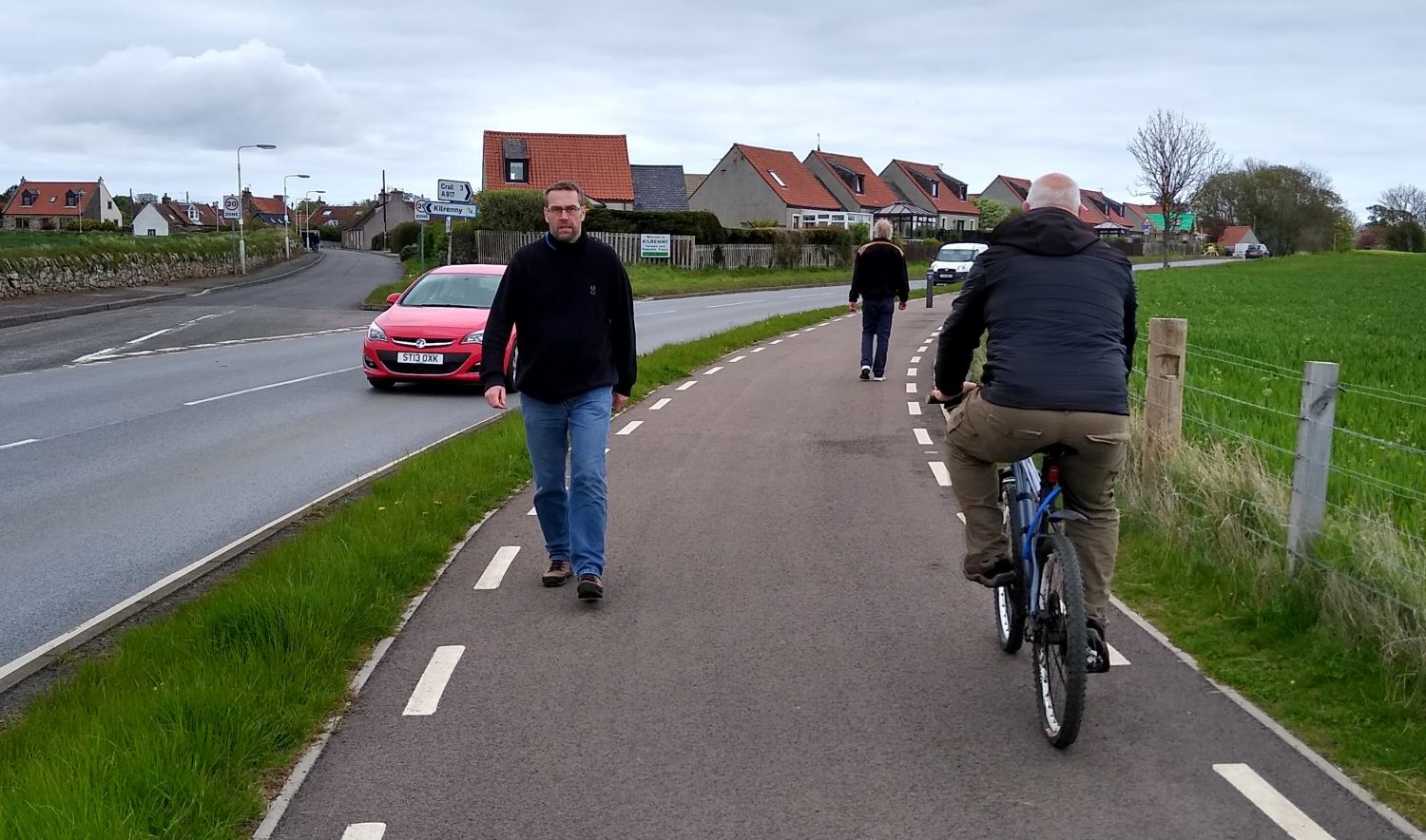 This is a community-led initiative which is being project managed by Fife Council. It comes after extensive consultation, with a view to providing safe active travel routes for all and linking the shops, schools and places of interest.
The Anstruther to Pittenweem path is part of a longer route between Kilrenny and Pittenweem, with the Kilrenny to Anstruther section already installed by the Anstruther Cycle Group (part of Anstruther, Cellardyke and Kilrenny Community Council). This initial eastern section comprises a traffic-free path located on the southern side of A917. The route then continues through Cellardyke and Anstruther, using minor roads within a 20mph zone and off-road paths. It passes through Bankie Park, linking Waid Academy and the primary school.
Read more about the background to the project from the local Community Councils
With the financial support of Sustrans, design work is progressing to enable the route to continue along St Andrews Road to the Co-op supermarket, then along the development road to the fields at the back of the industrial premises. We are negotiating with the landowner to allow for provision of a new path here, which will then link to the old railway bridge and into Dreelside Park and Queen's Gardens.
From here, there are two possible routes between Anstruther and Pittenweem as shown on the map.
on a dedicated off-road path parallel to the A917, or
using the current core path (P246)
The route analysis can be found here. Technical drawings for the two possible routes are outlined below:
Below are some images of how these changes could look:
Consultation Outcomes
This consultation ended on Friday 12th November 2021.
Using the National Standards for Community Engagement as a framework, the consultation allowed members of the local communities to consider the facts on the viability of two options so they could then be involved in the decision to establish a preferred route. The main outcomes have found that:
Over 400 responses were received, with 92% in support of a route between Anstruther and Pittenweem
A good response from communities at either end of the path was received; Pittenweem (41%), Anstruther (31% and Cellardyke (17%)
Walking was stated as the most likely use (56%) followed by cycling (37%) and wheeling (5%)
Respondents said they would most regularly (daily or near daily) use the path to go to the shops, take exercise, to get out, and to get to visitor attractions
The benefits across both routes were seen as broadly the same. More than 300 comments were given for each route
Core path 246 was the stated personal preference over the A917 route by a margin of more than 2:1 (63% vs 28%)
The majority of people (58% vs 26%) support both routes being developed
The demographic data showed a reasonable balance was achieved although the younger age groups were under-represented
"Representatives of the Royal Burghs of Kilrenny, Anstruther and Cellardyke and Pittenweem and District Community Councils have agreed to work together to respond to issues identified by the survey so that there can be two routes serving different areas of Pittenweem and Anstruther, as well as a future connection to St Monans. These will be designed to avoid unnecessary tarmacking of the countryside whilst serving the needs of our communities."
You can now download the full report.
Proposed schedule
Please note, this is a rough timescale only.
Autumn 2021 - Public consultation and review of consultation outcomes
Winter 2021/22 - Finalise design work and preparation of funding bids
Spring 2022 - Submission of funding bids
Late spring/ early summer 2022 - Tender issue for construction works
Summer 2022* - Site start
Autumn 2022 - Opening launch
* Subject to land access agreement and funding confirmation.
Future provision will include connection to a proposed multi-use path from Pittenweem to Elie, though planning and public engagement for this initiative is still at a relatively early stage by ENCAP.
Should you wish to make any comment regarding the project, please email: active.travel@fife.gov.uk