Service Update
We are now processing applications again, please note we are dealing with a backlog received during the Covid Restrictions, so there may be a delay in responding to new applicants. Thank you for your patience and we will contact you as soon as we can.
Apply for a disabled parking bay
If you do not have a driveway, and you require a disabled bay, you can apply for one by completing the online form below.
Criteria:
Must have a blue badge
Must not have a driveway or other off-street parking
Bays will be placed where it is safe within the vicinity of the property
The badge holders vehicle must be registered at the applicant's address
On-Street Disabled Parking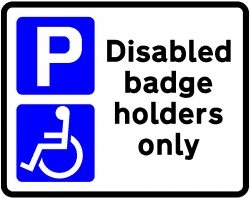 On-street disabled parking bays fall into two categories:
1. Parking bays which are marked out in residential areas for the benefit of residents who require a disabled parking bay close to their homes.
The Disabled Persons' Parking Places Act requires all local authorities to maintain a Traffic Regulation Order (TRO) which makes disabled bays throughout Fife legally enforceable.
As new bays are requested and existing bays are no longer needed, there is a requirement to regularly update the TRO to ensure it is accurate (TRO amendments).
Attached in the publications list below is a copy of the live TRO (and Schedules) listing all enforceable bays.
New amendment proposals will also appear in the list below when they are available. These documents contain details relating to all those disabled bays that we plan to make legally enforceable, along with our reasons for doing so and how anyone can go about objecting should they feel that they do not support the proposal. Details are also provided on any we plan to remove from the live TRO.
In addition to the information provided within these documents, a 'live map' has been provided below which will allow you to look at the locations of the disabled bays which are active in Fife.
Note: Any bays shown as "To be removed" (orange symbol) are still legally enforceable until the road marking has been removed.
2. Disabled parking bays which are in locations where people may need to get access to parking close to a local amenity such as shopping areas or community facilities.
Disabled persons parking places are provided throughout Fife to make access easier to town centres, shopping areas, other amenities and to people's homes. Through the provision of on-street and off-street disabled parking bays at appropriate locations, people with a disability can get improved access to services.
Removing a disabled parking bay
Due to the work involved when installing a disabled parking bay, it can take a while to remove them when they are no longer in use by an individual. Instead of removing them, we will aim to reuse existing parking bays when we receive new applications.
Repainting a disabled parking bay
If a bay is now in needing repainted due to wear and tear you will need to reapply. You can use the Apply for a Disabled parking bay form below.