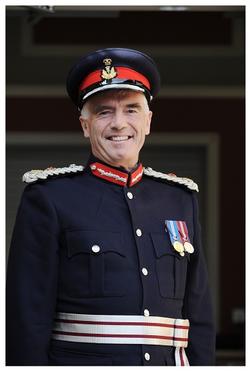 The Lord-Lieutenant of Fife is Mr Robert Balfour who was appointed in December 2014.
The Lord-Lieutenant is appointed by HM The Queen on the recommendation of the First Minister, and on the advice of the Prime Minister.
Within the cities of Aberdeen, Dundee, Edinburgh and Glasgow, the Lord Provost is the Lord-Lieutenant.
Lord-Lieutenants are not paid and only receive expenses such as travel costs incurred on official duties.
Lord-Lieutenants, whether male or female, are addressed as "Lord-Lieutenant".
The Lord-Lieutenant is expected to:
promote a good atmosphere
promote a spirit of co-operation
encourage voluntary services
encourage benevolent organisations
take interest in the local business, industrial and social life of the area
As Her Majesty's representative, the Lord-Lieutenant does not take part in political activities.
In particular, the Lord-Lieutenant:
arranges visits to the region by Her Majesty and members of the Royal Family
escorts Royal visitors and, on occasion, visiting Heads of State
represents HM The Queen during inspections of the Guards of Honour
takes part in various ceremonial functions
recommends people for invitation to Her Majesty's Garden Parties at the Palace of Holyroodhouse
assesses nominations for honours and awards and encourages nominations for both
presents medals and awards on behalf of Her Majesty The Queen
The Lord-Lieutenant may also appoint Deputy Lieutenants. In Fife we have a Vice Lord-Lieutenant and fifteen Deputy Lieutenants(listed below).
As Her Majesty's representative, the Lord-Lieutenant takes precedence over other dignitaries attending events including Ministers of the Crown and Conveners/Provosts of Councils.
The Lord-Lieutenant and the deputies provide advice and help with:
requests for Royal Visits
nominations for Honours Awards
The Queens Award for Voluntary Service
The Queen's Awards for Enterprise
invitations to Her Majesty's Garden Parties at the Palace of Holyroodhouse
congratulatory messages from HM The Queen to those local residents celebrating Diamond Wedding anniversaries or 100th Birthdays
Our current list of Deputy Lieutenants
Mrs Fiona Robertson DL - Vice Lord-Lieutenant
Lord Balniel DL
Lord Bruce DL
Earl of Dundee DL
Sir Peter Erskine DL
Mr Derek Fong DL
Col James Kinloch DL
Earl of Lindsay DL
Miss Fiona Maclachlan DL
Air Vice Marshall Ross Paterson OBE DL
Mr Jack Perry CBE DL
Mr Michael Wemyss of Wemyss DL
Mrs Susan Williams DL
Related Publications
| | |
| --- | --- |
| Contact: | Fife Lieutenancy Office |
| Tel: | 03451 55 55 55 + Ext 440336 |
| Email: | fife.lieutenancy@fife.gov.uk |
| Post: | Fife House, North Street, Glenrothes, Fife, KY7 5LT |
You can find out how we manage the personal information you provide by reading the privacy policy