Published Date: Mar 9th, 2023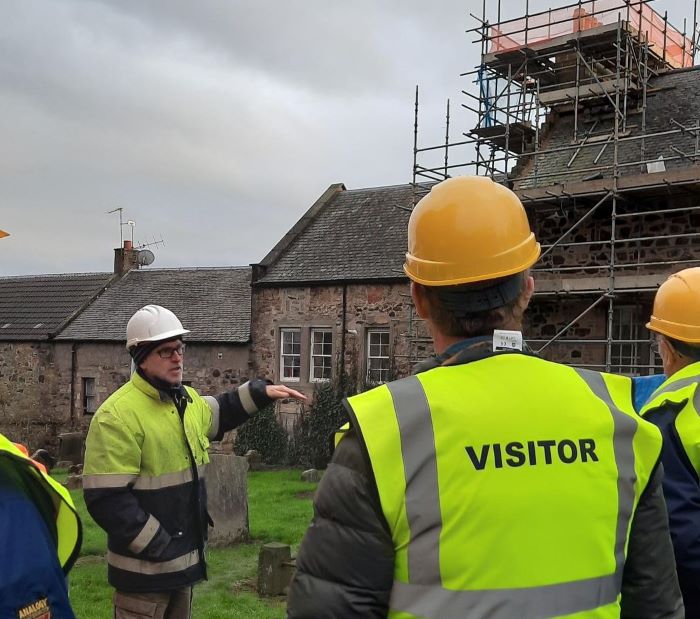 A lunchtime talk by conservation accredited engineer, Steve Wood, about the engineering aspects of the £1.5 million project to conserve, repair and adapt the A-listed Inverkeithing Town House will take place later this month.
The event is at 12 noon on Wednesday 22 March at the Charlestown Workshops of the Scottish Lime Centre Trust, and on Zoom.
Steve is Technical Director of Conservation at Narro Associates and has extensive experience of structural engineering challenging and complex heritage projects across Scotland, the UK and beyond. Narro are working at the Town House with Arc Architects and Ashwood Scotland Limited, a key element of Fife Council's Inverkeithing Heritage Regeneration project, funded by the National Lottery Heritage Fund and Historic Environment Scotland.
The talk is accredited as CPD by the Institute for Historic Building Conservation. But it's also an unusual chance for anyone who is interested to hear about the creative solutions achieved by the design team.
Convener of the South and West Fife Area Committee, Councillor David Barratt said: "Everyone involved has been working extremely hard to make a fully accessible community asset on a tight, steeply sloping site that's home to a much-loved building with a history of at least four centuries. The building is at the heart of historic Inverkeithing, which was granted its Royal Burgh Status around 1160. It's incredible to think that the Town House we see today, had its origins about 900 years ago."
The earliest surviving records are of 17th century shop rentals, and then there are extensive archives of repairs in the 18th century. Cllr Barratt added: "Activities like this, as part of the building's latest restoration project, will be part of the future archives that document the story of an amazing building and its community's efforts to make it fit for the people and town it continues to serve."
Emma Griffiths, of Fife Historic Buildings added: "This is sure to be a fascinating talk and tour. Activities associated with the capital project are aimed at helping people learn about and understand their heritage, and to develop skills in and appreciation of traditional materials and techniques."
You can book your free place, either in person or virtually on Zoom, online. Limited spaces are also still available on the hard hat site tour to follow the talk.
If you have any questions about the restoration project or would like to find out more, email inverkeithing@fifehistoricbuildings.org.uk or visit www.fifehistoricbuildings.org.uk/inverkeithing
Fife Historic Buildings Trust work in partnership with Fife Council, delivering the 5-year Inverkeithing Heritage Regeneration project. Fife Council's project is generously co-funded by the National Lottery Heritage fund, and Historic Environment Scotland.