Published Date: Aug 25th, 2022
This article is more than 1 year old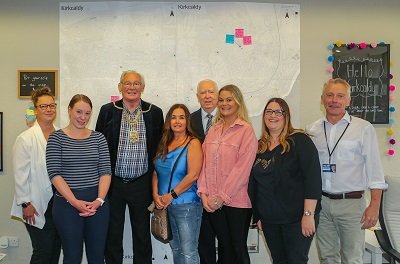 The Provost of Fife recently visited the Corra Foundation in Kirkcaldy after hearing about the excellent, community led project.
The Corra Foundation opened its doors on Kirkcaldy High Street last month (July). It's aim: to make everyday life better for everyone, which is also a priority for Fife Council.
Corra is currently using the shop to research whether what they do is something Kirkcaldy would benefit from.
Provost of Fife, Jim Leishman, said: "I've been hearing a lot about the Corra Foundation so was eager to come and see for myself what's happening in Kirkcaldy. I have to say I'm very impressed! We all know that the way forward is by having locals front and centre – both individuals and organisations alike – of what's going on within their communities. After all, they're the ones at the coalface and know exactly what's happening and what their area needs.
"I'd like to take this opportunity to thank the people of Kirkcaldy for their encouraging response to the initiative and the Corra Foundation for bringing such a wonderful opportunity to Fife. I'm looking forward to seeing the good work going from strength to strength."
Convener of the Kirkcaldy Area Committee, Councillor Ian Cameron added: "We were delighted when the Corra Foundation opened in the high street to test the water and see if they could help Kirkcaldy. Similar projects that have taken in place in the London borough of Barking and Dagenham and Canada have been hugely successful. In London, locals decided they needed a "makers' space", a space that could be used by someone who, for example, was interested in making jewellery. Rather than financing their own premises to see what works, and whether it could go on to become a commercial enterprise, they were able to try out their venture here.
"The space has everything from a commercial kitchen to printing facilities, a workshop and training facilities.
"It has everything the community said it wanted and could use, and that space is also completely free to access for anyone who lives there. Although this might not be what locals feel is needed here it just highlights the opportunities that it can bring.
"A couple of groups/individuals already in conversation with Corra are The Men's Shed and local woman, Jackie Meek who is currently creating a group for women at the YM. Hopefully by working with Corra both will be able to grow their ideas and bring them to life."
Emily Wallace, National Programme Manage with the Corra Foundation said: 'We're delighted to be able to explore the 'Every One Every Day' idea with people in Kirkcaldy to see what they think. It's all about neighbourhoods made by everyone, for everyone, and we'd love to bring it to here. We're doing this research though because the whole ethos is that the approach responds to what people want and need locally.'
To find out more, or have ideas you'd like to see come to life, pop into to the shop at 69 High Street, Kirkcaldy (the former Kommandor showroom) until 4th September, or get in touch with Emily Wallace at emily@corra.scot Corra will also be doing family fun days and events all through September in different Kirkcaldy neighbourhoods so there are plenty of chances to have your say.