Published Date: Jan 18th, 2022
This article is more than 1 year old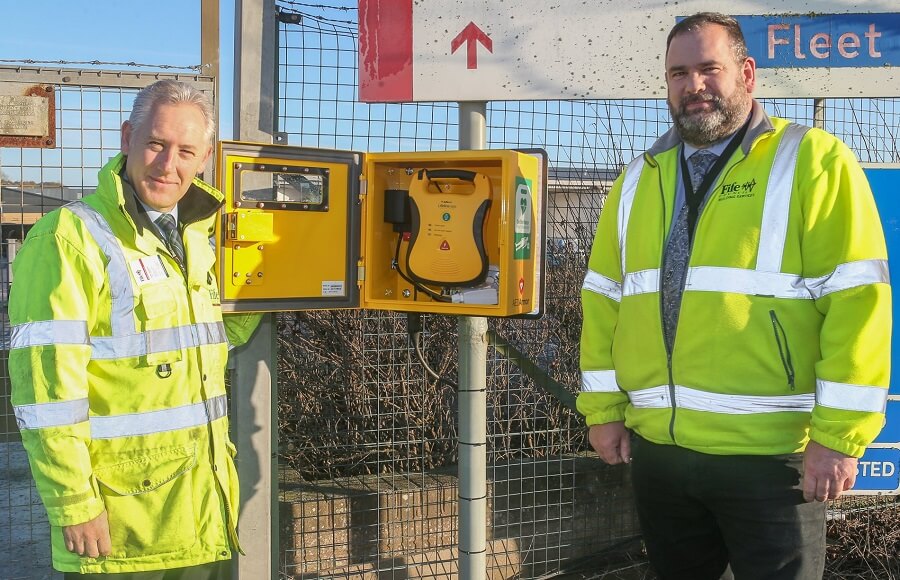 Following the tragic death of a member of their team, Fife Council Building Services staff Garry Hegg and Roddy Sneddon led the campaign to help buy and install a defibrillator at the Cupar Trading Estate.
Garry said, "Following the loss of one of our teammates as a result of a heart attack, it was clear there wasn't enough community defibrillators in the area.
"We're delighted that we've been able to raise enough money to be able to install the Automated External Defibrillators (AEDs) at the Trading Estate."
Roddy added. "The new AED is a community access device registered with The CIRCUIT national Defibrillator Network. This means that if you call 999 to request help for a cardiac arrest you'll be advised of its location and given the access code for the lock on the box.
"The beauty about this is that there's no training necessary to be able to use it so all members of the community will be able to access it if required."
The Automated External Defibrillator (AED) is a small machine which shocks a patient's heart into restarting.
A cardiac arrest can happen to anyone at any time. According to St Andrew's First Aid charity, using a defibrillator and CPR within the first few minutes after an arrest, while professional help is on its way, can increase the chances of a patient's survival and potentially save a life.