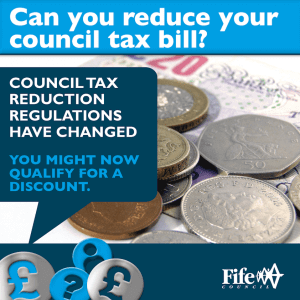 FIFERS are being reminded to check to see if they're entitled to a discount on their Council Tax, especially if they receive Universal Credit.
With the cost-of-living crisis every penny counts.
Council tax reduction is a means tested entitlement based on household income, circumstances, savings, and investments. Many people think because they've applied for Universal Credit, they'll automatically receive a reduction on their Council Tax, but this isn't the case – you must apply for it separately to the Council. In certain circumstances the reduction can be backdated up to three months.
The Council Tax Reduction regulations changed in April 2022 for people claiming Universal Credit. Less of your income is included so even if you applied before and didn't qualify you might do now.
For more information and to apply for a reduction visit www.fife.gov.uk/counciltax