Published Date: Oct 21st, 2022
This article is more than 1 year old
Two of Fife Council's Building Services' apprentices have been recognised at this year's APSE Housing and Building Maintenance Awards 2022.
Held as part of APSE's Big Housing Retrofit Summit, the awards recognise the incredible work apprentices and councils have been involved in over this past year.
Apprentice Ruaridh Strachan from Dysart scooped the Building Skills Category award, with his fellow apprentice Luke Cuggy from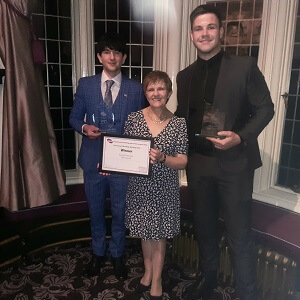 Glenrothes named as runner up in the Mechanical and Electrical category.
Congratulating them both on their success, Team Manager, Neil MacGregor said: "We're extremely pleased that both our apprentices have been recognised nationally and obviously Ruaridh winning was a huge accolade to not only for him, but also for our apprentice scheme at Building Services.
"I believe our success at these awards not only highlights the emerging talent within our Fife Council apprentice programme but also the dedicated staff who are involved in our programme
APSE UK's Chair of Housing and Building Maintenance and Fife Council's Spokesperson for Housing and Building Services, Councillor Judy Hamilton added: "Congratulations to both Ruaridh and Luke! This is a fantastic achievement by them both. Not only does it recognise all the hard work they've put in, it also demonstrates the quality of our apprentice training programme. They are a credit to Fife and this recognition is well deserved."
Speaking about the awards, APSE Chief Executive, Paul O'Brien, said, "This year APSE received an exceptionally high standard of entries. As ever, these awards provide a stark reminder of how local authorities serve as excellent places for people to begin or develop their careers. I am in no doubt each of tonight's finalists have an incredibly bright future ahead of them."