Each year the council reassures residen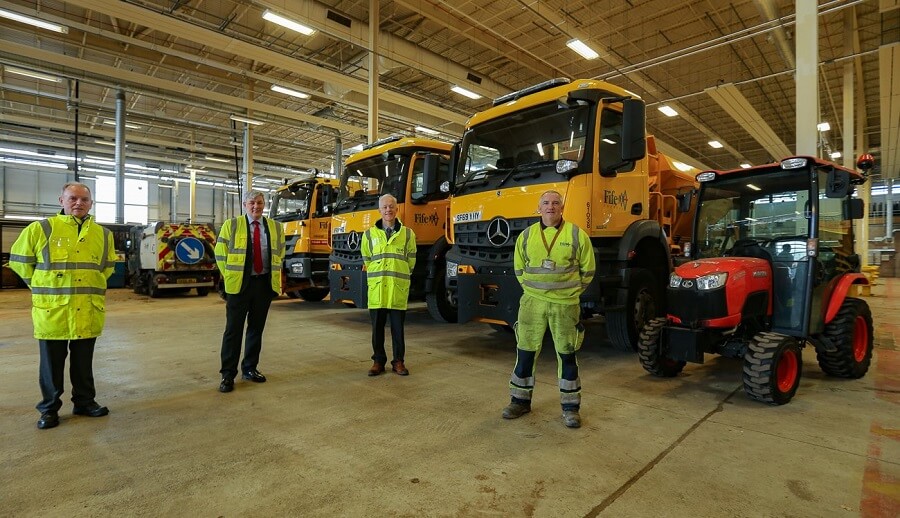 ts across Fife they are ready for winter, and this year is no different.
The council has been busy planning ahead for winter and is committed to keeping the Kingdom moving despite the weather.
Convener – Economy Tourism. Strategic Planning & Transportation Committee, Councillor Altany Craik explained: "The council has been planning ahead for winter since the summer months to ensure that everything is in place and our gritting teams are once again ready to go out and keep Fife moving through the winter months.
"The council's winter fleet includes 29 vehicles ready to treat Fife's roads and a further 60 vehicles which can be used during severe conditions, including 30 small footpath tractors capable of clearing and salting footpaths.
"This year we have taken a delivery of 13000 tonnes of salt, bringing our current stock level to 21,500 and we will take in an additional 3,500 tonnes during the winter period.
"When weather is extremely bad, we can deploy several hundred extra personnel to work on the road network and we also have arrangements for external resources, plant and equipment. By taking these steps, we aim to keep Fife's roads safe during the winter.
"As always during this period, key staff will be working 24 hours a day, seven days a week to keep our road network open. Of course, it's also important for Fifers to make sure they know where to find the information they need ahead of any severe weather."
You can plan ahead by staying informed – and there's some really easy ways to do that.
Before any severe weather hits, make sure you do these three things to get the important information you'll need:
Go online to www.fife.gov.uk/winter - There's lots of advice on how to prepare whether at home, in the car and in your community.
Follow Fife Council on Facebook and Twitter. All winter updates will appear as they happen, direct to your mobile phone or computer.
Tune in to your local radio stations: Kingdom FM (95.2 & 96.1), Forth One (97.3) and Tay FM (96.4 &102.8) will have all the latest updates. Individual school closures are broadcast when the decision is made not to open. The head teacher will make the final decision whether or not to open the school during severe weather. This decision will be made with as much notice as possible.
If you need emergency help, speak to an advisor by calling us on 03451 550011 from Mon-Fri, 8am 'til 6pm (Option 3 for Transportation/Road Faults) or 03451 550099 between 6pm-8am on weekdays, at weekends & on public holidays. . For all information on winter in Fife go to www.fife.gov.uk/winter
Related Services