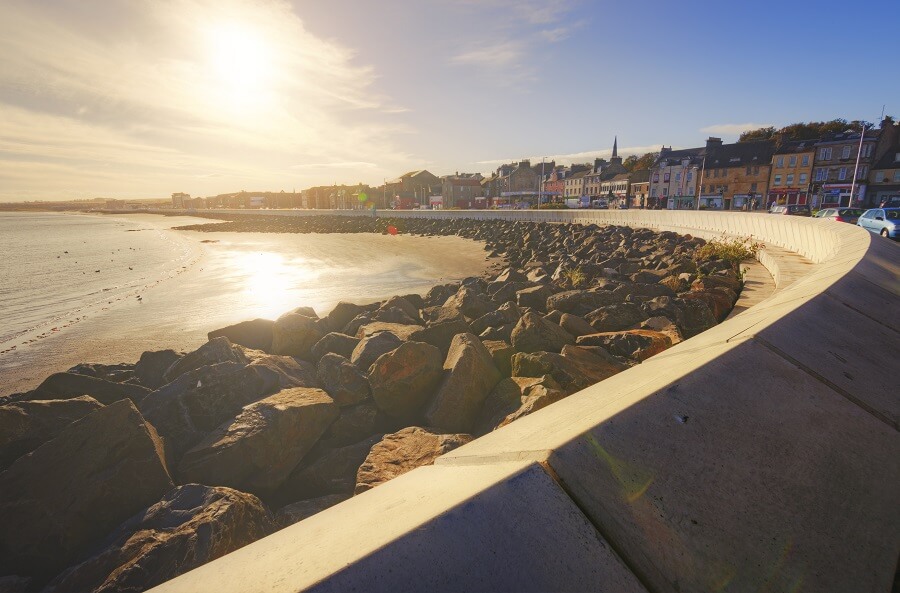 Fife Council is committed to investing in the Kirkcaldy Area. That was the message from today's (Tuesday 19 January) Kirkcaldy Area Committee.
Members heard that although the 2020 global Covid-19 pandemic has had an unprecedented economic impact worldwide, work to make the Kirkcaldy area a resilient and vibrant place continues.
Highlights include:
Work is progressing on the new Kingdom Park housing development and will deliver 1,088 homes when fully completed by 2028.
The £1.6m Council-funded Waterfront Regeneration Project, aimed at better connecting the waterfront and the town centre, is due to complete in 2021. The esplanade has proved a popular location for active leisure during the pandemic.
A Kirkcaldy Town Centre Strategy is currently being developed.
As part of the efforts to regenerate the town centre the Postings Steps have been repaired and upgraded. The improvements also include new lighting and street art.
The 'Love Oor Lang Toun' Community Interest Company established in March 2020 is helping to promote our town centre and support Covid-19 adaptation. Local shopping trade appears to have been bolstered by the pandemic.
Kirkcaldy High School is only the secondary state school in Scotland to be awarded the LGBT "Gold" Charter by LGBT Youth Scotland.
New residential developments planned for the gap site previously occupied by the Co-op and the former linen factory above the Olympia Arcade aim to support the re-purposing and diversification of Kirkcaldy town centre.
Fife Cultural Trust's proposed £3 million revamp of the Adam Smith Theatre is expected to start in the autumn of 2021 and finish by November 2022.
A 9.9% increase in the value of tourism in the Kirkcaldy area between 2018 and 2019, from £137 million to over £151 million.
An increase in the number of visitor trips by 4,8% and visitor spend increased by 9.9%, with visitor spend per trip increasing from to £45.10 to £47.30.
Kirkcaldy's new 15-17 store will open in the spring after flood damage delayed its planned September opening. The fledgling chain store brand aims to make use of the empty retail unit vacated by Debenhams to bring a mix of different retailers together under one roof, with a selection of small local businesses and bigger national names trading side-by-side.
A new community bike shop has opened on the High Street by Greener Kirkcaldy. Funded by the Scottish Government's 'Climate Challenge Fund' and Paths for All's 'Smarter Choices, Smarter Places Fund', Lang Toun Cycles aims to make it easier for people in Kirkcaldy to cycle more.
A number of new start-up businesses have opened, particularly in Burntisland.
Paper bag manufacturers Smith Anderson reported a 16% increase in turnover for the year ending September 2019. Overseas sales grew and company investment in new machinery and product innovation increased capacity and allowed the introduction of numerous innovative products.
New owners of the Dean Park Hotel in Kirkcaldy have completed a refurbishment of the ground floor and have started completely refurbishing the 33 bedrooms on the first floor. Plans in place for further expansion of the hotel's facilities next year.
New estate agency Home Sweet Home Estate Agents Fife has launched from premises in the John Smith Business Park, Kirkcaldy.
A Kirkcaldy start-up, Better Internet Search Ltd, launched a new search engine in December 2020. Developed in collaboration with Edinburgh Napier University and with support from the EU's Next Generation Internet Trust, the search engine will have no advertising and is promising better results than Google.
Los Buenos Amigos opened a home delivery, take-away shop, selling tapas, paella and other Spanish food products, in the former Carlton Bakery site on Victoria Road.
The new Merchants House Cafe opened in October within one of the shop units within the 16th century A-listed Merchant's House on Laws Close. The new outlet sells homemade food including deli sandwiches, paninis, soups and homemade speciality cakes as well as Barista-style coffee, organic tea, pink hot chocolate and soft drinks.
Fife Central Retail Park (not included with town centre vacancy figures) has remained relatively buoyant during the Covid-19 pandemic, underpinned by the presence of the Sainsbury's supermarket and M&S Food.
Speaking on the back of today's committee, Convener Councillor Neil Crooks, said: "There's no getting away from the fact that the past year has brought us many challenges and although the full impact of the Covid-19 pandemic is still to emerge, it's important that we keep focussed and work towards our goals for Kirkcaldy. Yes, it's going to take time to recover but that doesn't mean we won't.
"As a council we're fully committed to investing in our town, but I'd also like to say a big 'thank you' to our residents and the local media, particularly, the Fife Free Press weekly newspaper whose engagement has been pivotal in spreading and encouraging the public to express their views.
"If it wasn't for our local communities getting involved in the various consultations and workshops, either directly with ourselves or through community organisations and community conversations that have taken place, we wouldn't be where we are today. They've been integral to what's been achieved so far, and we need to keep the momentum going."