Published Date: Oct 26th, 2021
This article is more than 1 year old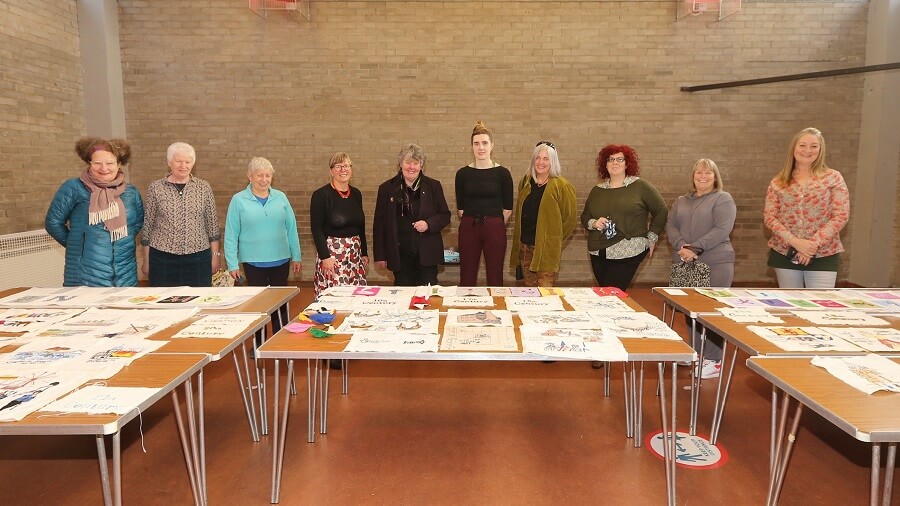 Friday (22 October) was an important day for an inspired community textile project in Inverkeithing. Participants were handing in their contributions for an ambitious, collaborative piece of artwork. For the first time, they were able to see one another's techniques, interpretation and subjects. And get a real sense of the impact and scale of the final artwork.
Over 40 adults, and around 20 children, mainly local, have been involved. The real bonus though was the new skills, "time for me", new connections and friendships made. That and gaining a fascinating new insight into local heritage. Some volunteers have learned sewing and embroidery techniques for the first time from the project lead, accomplished international textile artist Nikkita Morgan. Other volunteers have taught needlework and shared their knowledge and experience with others newer to stitching.
Artist Nikkita will now stitch together over 40 panels, into a triptych, three panels which hinged together. This will adorn the upper room in Inverkeithing's refurbished and accessible Town House.
The scenes of historical episodes from Inverkeithing's extraordinary history, from the 12th to the 21st century, have been interpreted in stich for the first time. The artwork includes the Inverkeithing plague, witch trials, fires, battles, maps, industries, maritime trading links, key town buildings and events, and a yellow submarine! The Bayeux tapestry may presently be better known than Inverkeithing Stitching In Time, but the embroidered interpretation of the Norman conquest, is roughly concurrent with Inverkeithing being granted its Royal Burgh status in 1160. Who knows, in time it might overtake the fame stakes, at least locally. This artwork is certain to become a fantastic heritage asset, a visitor attraction for generations to come who can proudly point out the work of their own forbears.
Councillor Alice McGarry, Convenor of the South and West Fife Area Committee, said "This extraordinary project has been a really imaginative way for lots of local people to become more familiar with Inverkeithing's remarkable heritage and history. It's helped them to make new community connections, develop new skills or share the knowledge they have. Everyone involved should feel proud that they took part in creating this really valuable piece of future artistic heritage. I'm really looking forward to seeing the finished artwork, and the seeing how the many local scenes and stories have been interpreted. It will rightfully take pride of place in Inverkeithing Town House."
The artist, Nikkita said "It's been an absolute privilege to work with all the volunteers. The amount of time and work that has gone into all the panels, and the standard of work they've produced, is amazing. I can't wait to get started on pulling it all together into one piece."
This textile artwork project, and other engagement activity connected to the project, is generously funded by The National Lottery Heritage Fund and Historic Environment Scotland through the Inverkeithing Heritage Regeneration scheme. This coastal community textile project has been additionally funded by Crown Estate Scotland.
Inverkeithing Heritage Regeneration scheme is delivered by Fife Historic Buildings Trust on behalf of Fife Council. The project aims to inspire people connected with Inverkeithing, visitors and the diaspora, with wonder in its rich heritage.
If you have any questions or would like to find out more, please email inverkeithing@fifehistoricbuildings.org.uk or visit www.fifehistoricbuildings.org.uk/inverkeithing