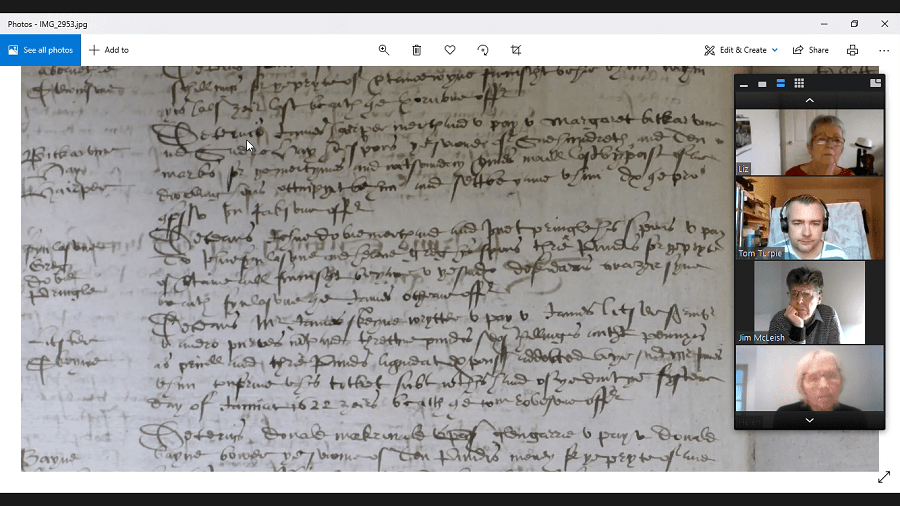 The Community Burgh Survey group in Inverkeithing, have met virtually throughout the pandemic. Their hard work has won the Highly Commended in the Marsh Award for community archaeology projects, run by the Council for British Archaeology (CBA). It was one of only three projects to be shortlisted, and the only Scottish winner in the paid support category, presented by the CBA on Thursday 4th February 2021.
The Survey, launched in January 2020, is one part of the Inverkeithing Heritage Regeneration Project. It is led by consultant archaeologist Gavin MacGregor of Northlight Heritage, and historian Dr Tom Turpie of the University of Stirling.
The project, facilitated by Fife Historic Buildings Trust, has maintained a programme of activity for volunteers, with research meetings, regular activities, guest speakers, and even a Christmas party, all safely managed over Zoom.
The Marsh Awards are presented annually, to recognise excellence archaeology projects. The awards are funded and supported by the Marsh Christian Trust. Since all archaeological activity this year has been affected in some way by the pandemic, the CBA decided to take a special, one-off approach to the Awards for 2020 and recognise projects which have responded to these challenging circumstances.
This year, the Marsh Awards for Community Archaeology recognised projects which have helped people to keep participating safely in archaeology, during the Covid-19 pandemic.
The criteria used by the judges to shortlist projects were:
Contribution to individuals' well-being during the pandemic
Contribution to sustaining volunteer and public participation in archaeology during the pandemic
Contribution to broadening understanding of the historic environment
Emma Griffiths, Training and Development Officer for the Inverkeithing Heritage Regeneration project, said
"It's been an absolute pleasure and a privilege to work with our talented consultants Gavin and Tom, and with so many local volunteers who are in turn so talented and enthusiastic. Their discoveries have been incredible, their company a tonic and the project has brought really fascinating new archaeological evidence to light."
Participants described the project as being "a lifeline", "a great focus", "a brilliant opportunity", "a real highlight in a challenging year, and so good to have something positive to think about when things have been so horrible".
Councillor Alice McGarry, Convener of South and West Fife Area Committee, said
"We're delighted that the Inverkeithing Community Burgh Survey work has been recognised. Despite the restrictions, it's successfully reached the community, enabling participation, and sustaining interest in our town's magnificent built heritage. Recognition by the Council for British Archaeology is very fitting. It's a testament to the hard work and enthusiasm of everyone involved."
The overarching Inverkeithing Heritage Regeneration project is a five year programme of heritage-led regeneration, bringing new awareness of the town's rich history, sharing new skills and techniques to research its past and interpret its significance, and offering chances for ordinary people to get involved with their locality.
The project of Fife Council, delivered on their behalf by Fife Historic Buildings Trust, is generously funded by The National Lottery Heritage Fund and Historic Environment Scotland and other funding partners.
If you have any questions or would like to find out more, please email inverkeithing@fifehistoricbuildings.org.uk or
Inverkeithing has a rich history and heritage, reflected in its large Conservation Area and many listed buildings. Fife Council is working with Fife Historic Buildings Trust and the local community to invest in Inverkeithing's historic buildings and streets to support the town's future. The five-year Inverkeithing Heritage Regeneration scheme, which runs until March 2024, will deliver a number of elements: priority building projects, a building repair grant scheme, public realm improvements to the Inverkeithing High Street area, and training and community engagement.
The Inverkeithing Heritage Regeneration scheme is funded by The National Lottery Heritage Fund (£1,255,900 via its Townscape Heritage programme), Historic Environment Scotland (£1,007,700 via its Conservation Area Regeneration Scheme), and Fife Council. Over £3.6 million will be invested in Inverkeithing's heritage during the five-year programme.
The National Lottery Heritage Fund is the largest dedicated funder of heritage in the UK, believing that understanding, valuing and sharing our heritage brings people together, inspires pride in communities and boosts investment in local economies.
Using money raised by the National Lottery, we Inspire, lead and resource the UK's heritage to create positive and lasting change for people and communities, now and in the future. www.heritagefund.org.uk Follow @HeritageFundUK on Twitter, Facebook and Instagram and use #NationalLotteryHeritageFund
National Lottery grants range from £3,000 to £5million and over, funding projects that sustain and transform the UK's heritage
Historic Environment Scotland's Conservation Area Regeneration Scheme (CARS) programme can offer grant of up to £2 million to support cohesive heritage-focused community and economic growth projects within Conservation Areas across Scotland.
HES expect CARS to deliver a combination of larger building repair projects, small third-party grant schemes providing funding for repairs to properties in private ownership, activities which promote community engagement with the local heritage and training for professionals in traditional building skills, all of which will contribute to sustainable economic and community development within the Conservation Area.
The CARS funding programme has been in operation since 2007 with over £40m awarded to date. Applications for Round 8 were accepted up to 15 November 2018. Applicants were notified of funding decisions in March 2019.
Further information: Fife Historic Buildings Trust: www.fifehistoricbuildings.org.uk