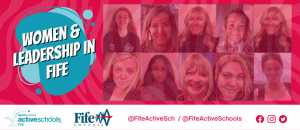 As part of this year's Women & Girls in sport week 2021 (25 – 31 October) Fife Council's Active Schools is encouraging young women across the Kingdom to become leaders.
A report commissioned by Scottish Women in Sport (SWIS) suggests men are filling 80% of the most senior roles in sports clubs and associations; prompting calls for renewed effort to get more women in leadership roles.
As part of their campaign our Active Schools team have asked a number of women from across Fife, who are in a variety of leadership roles, to share their story. It's hoped that their experiences will inspire girls and young women across the region and show them that they too can be leaders.
Councillor Judy Hamilton, Convener of Fife Council's Housing and Communities Sub-Committee, said: "We have recently agreed a whole new Sports Strategy.
"At its heart is our commitment to equality and diversity in Sports and in Physical Activity. We've promoted a Mile-a-Day Kingdom, to encourage people of all abilities and stages to participate in Physical Activity at least once a day. Studies have demonstrated that girls are most likely to lose interest in Sport and Physical Activity as teenagers, and it is more challenging for women to get back into it.
"We have some fine Women, leading in Sport in Scotland and it is hoped that by encouraging Women & Girls into Leadership in Sport, it's possible that a more diverse group of individuals will think about their own health and wellbeing and encourage others to participate and perhaps also aspire to Leadership."
We will be sharing the stories on our Active Schools social media accounts throughout the week so why not give them a follow at www.facebook.com/FifeActiveSchools or www.twitter.com/FifeActiveSch
We will also be holding a remote Question and Answer session with young people between Friday and Sunday (29 – 31 October) to find out what roles have inspired them to begin their leadership journey. These will be answered and shared on our Facebook page on Friday (5 November).
If you would like to take part in the Q&A you can email your local Active Schools Coordinator with your questions or complete the online form at www.fife.gov.uk/activeschools