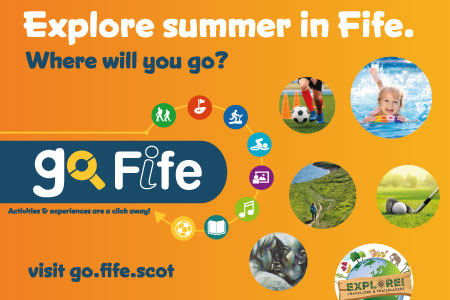 GoFife with our new website and make the most of what Fife has to offer this summer.
Why don't you use this summer as a time to get out and explore, stay active, get creative, find new places, have new experiences and create new memories? And all of this right on your doorstep.
To help you find out what's on and where, Fife Council have joined forces with our partners at Fife Coast and Countryside Trust, Fife Golf Trust, Fife Sports and Leisure Trust, OnFife (Fife Cultural Trust) and Welcome to Fife to bring you a fantastic range of activities and experiences suitable for all ages and interests throughout the region this summer.
We've all been stuck at home too long and it's time to get out, get connected to others and share some experiences. There are activities for children, families and individuals from free swims to Café Inc; brilliant parks and walks, sports activities, exhibitions and events. Get out and explore. You might be surprised at what's on our doorstep.
Our new website 'GoFife' can give you some inspiration and make it easier to find out what is available.
The site provides links to activities provided by Fife Council, Fife Coast and Countryside Trust, Fife Golf Trust, Fife Sports and Leisure Trust, On Fife and Welcome to Fife.
Councillor Judy Hamilton, Convener of the Community & Housing Services Committee, said: "I'm very pleased to welcome GoFife, our new website, that will take you on a journey to see all the opportunities out there, for summer and beyond.

"Although some of you are missing your holiday – or looking for something to do with the kids that is affordable and enjoyable, I hope that you will be able to use the site to find links and information to whatever activity you are interested in.

"As a Council we are committed to supporting your health and wellbeing. Now that we have fewer restrictions, I want people to get out and enjoy Fife safely, and really appreciate what is on our doorstep.

"Wherever you go this summer always remember to continue to stay safe, respect others, follow restrictions and please look after our environment."
So, what are you waiting for, get exploring and get going! Share your experiences with others on social media using #GoFife #LoveFife
Visit https://go.fife.scot to explore summer in Fife. Where will you go when you #GoFife?
Related Services