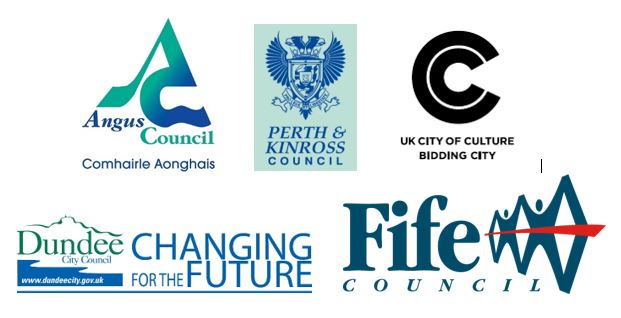 Civic and culture leaders today said the Tay Cities Region's cultural ambitions remain high, despite not being longlisted for the UK City of Culture 2025.
The UK Government's Department for Culture, Media and Sport revealed the eight bids selected to progress to the next stage of the judging process today.
The Tay Cities Region was one of 20 areas to submit an Expression of Interest last month.
Angus Council, Dundee City Council, Fife Council and Perth & Kinross Council worked in partnership on the bid, together with regional cultural trusts Leisure & Culture Dundee, Angus Alive, On Fife and the culture trusts of Perth & Kinross.
The Expression of Interest has started a new regional conversation between the four local authorities that will continue despite today's announcement.
Last month over 40 people from the cultural sector across all four areas met to discuss their work, ideas and how to collaborate in future.

Angus Council Leader, Cllr David Fairweather said: "It's a shame but it doesn't change the amazing cultural offer available across the Tay Cities region.

"The submission of our Expression of Interest has reiterated that culture, and the tourism it generates are key aspects of our continued economic success for the region. By coming together we can create an unrivalled experience for our residents and visitors alike.
Perth & Kinross Council leader Murray Lyle said: "Although we're disappointed not to be through to the final round, the four local authorities have taken this opportunity to create stronger links between the cultural organisations and creative individuals, fostering a new understanding of our strengths and strategic aims and developing some exciting projects which we will continue to plan for.
"These will help make Perth and Kinross and the wider Tay Cities region an even better place to live and work."
Dundee City Council leader John Alexander added: "We should be really proud of the Tay City Region's fantastic cultural offering. It has already delivered much in terms of helping to harness the area's social and economic potential and will continue to do so in the years ahead.
"While it would have been great to take forward a City of Culture bid, our collective ambition is undiminished. With major developments to come like The Eden Project here in Dundee, we've got lots to look forward to."
Fife Council Co-Leaders David Ross and David Alexander confirmed their disappointment at the news the bid had not been long-listed:
"Our bid was strong and we've worked together as a partnership to bring it forward. We're disappointed it will not go further this time but the work that has been done so far will bring its own benefits to the region," they said.
Coming years will also see the creation of a new museum at Perth City Hall, which will be home to the Stone of Destiny, and Eden Dundee.
A panel of judges, led by Sir Phil Redmond, will announce a shortlist in the spring, before the winner is revealed in May.