Published Date: Feb 19th, 2020
This article is more than 3 years old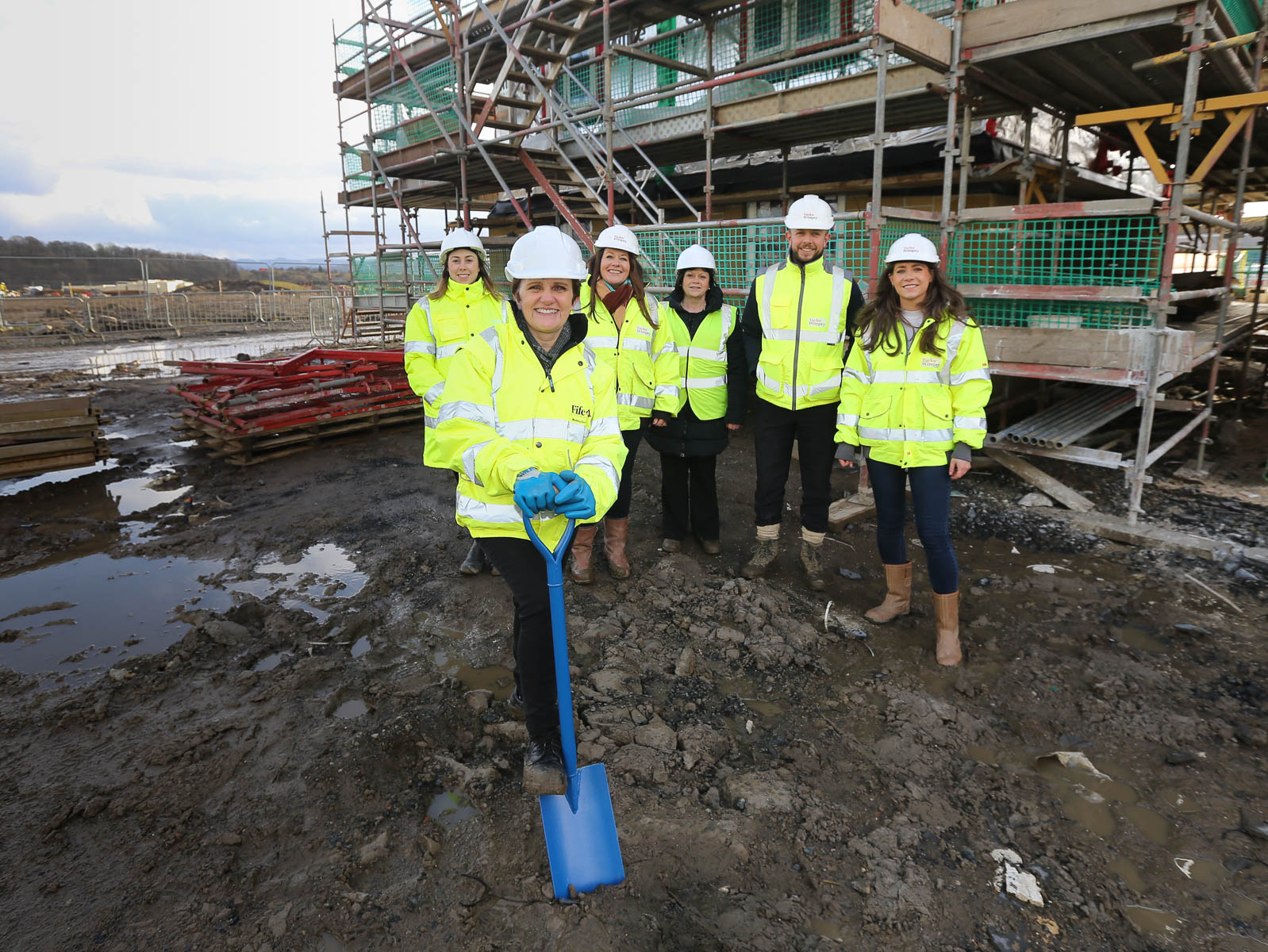 Councillor Judy Hamilton Convener of the Community and Housing Services Committee marked the start of construction of new council houses in Inverkeithing by performing the sod-cutting ceremony as work begins.
The development at Spencer Fields, is one of Fife Council's largest affordable housing projects and part of Phase Three Affordable Housing Programme which is to deliver 3500 new affordable houses across all areas of Fife. The houses are being built for the Council by developer Taylor Wimpey Plc.
By increasing the availability of good quality affordable housing, existing tenants who are in overcrowded or under-occupied homes can be allocated a house more appropriate for their needs. The development of 74 high quality new affordable houses, are a mix of two, three and four bedroom homes. They are a range of house types including bungalows and cottage flats that will make it possible for people who no longer need a large family home to downsize and allow a family who needs more space to move in.
Councillor Hamilton said: "I'm delighted that construction on the Council houses to be built here at Spencer Fields has started. This is a very important development providing a large number houses that will really improve the quality of life for many people. The mix of house types means we can provide houses to meet the needs of many different households. In particular some tenants from the Fraser Avenue regeneration project who have been waiting for new accommodation may benefit from the opportunity to move into a new home in their local area.
As well as providing more housing, the programme is also about creating jobs and apprenticeships, supporting the Fife economy and the construction industry.
She added: "Fife Council's Affordable Housing programme is one of the biggest in Scotland and this project is part of the much needed high quality council housing being built for people across Fife. Fife Council is absolutely committed to meeting the housing needs of communities in Fife and proud to be delivering warmer, drier, healthier homes. "
John Mills, Head of Fife Council Housing Services
"A key focus of our Local Housing Strategy is that our tenants live in good quality housing and in sustainable communities built through partnership and engagement. We are delighted to be working with Taylor Wimpey as part of their wider Spencer Fields development, and look forward to providing high quality Council houses to Fife Council tenants."
Pauline Mills, Land and Planning Director at Taylor Wimpey East Scotland said: "As one of the largest house builders in the UK, we are committed to building more than homes and making sure that we add social, economic and environmental value to the wider communities that we operate in. As well as a high-quality build and contributing to the choice of properties for rent in the local area, this development of new Council houses in Inverkeithing is directly providing opportunities for five apprentices in bricklaying and joinery. We are also taking care to maximise the local supply chain where we can to ensure that we support wider Fife economy."
Photo caption: Cllr Judy Hamilton on site with (Left to Right) Debbie Ford (Fife Council) Pauline Mills (Taylor Wimpey) Helen Wilkie (Fife Council) Kenny Gorman (Taylor Wimpey) and Abby Kelman (Taylor Wimpey)