Published Date: Mar 4th, 2020
This article is more than 3 years old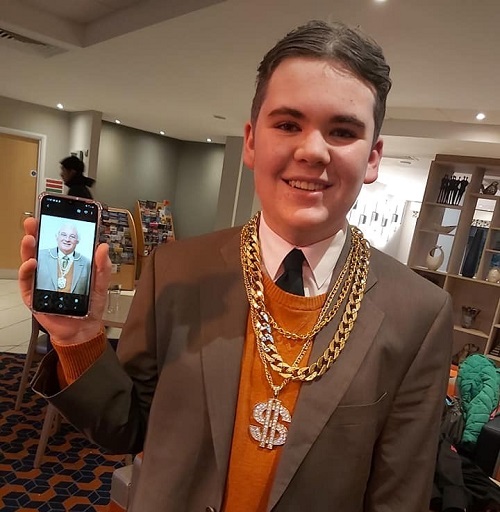 The South and West Fife Villages Area Committee met in Inverkeithing Civic Centre this morning. This is a summary of the items discussed.
First on the agenda was waiting restriction changes in Preston Crescent
Committee members agreed to the promotion of changes to waiting restrictions on Preston Crescent, Inverkeithing. The proposal is to extend the "No waiting At Any Time" prohibition to include the road in front of the houses at nos. 3 and 4/5.
Drivers parking on the bend in the road are reducing the road to a single lane. This obstructs the view for drivers causing safety concerns especially for buses and HGVs. It is proposed to increase the length of the "No waiting at any time" double yellow line prohibition on both sides of the street.
Roads programme agreed for 2020-21
Members of the committee were shown and agreed to an extensive roads programme for the next financial year. Almost £800,000 will be spent on carriageway improvements alone.
Work planned in the area include:
Carriageway improvements include West Road, Saline; and Wardlaw Crescent, Oakley.
Rural routes at Torryburn and Steelend
Street lighting in Camdean Crescent and Park Road West in Rosyth, and Pentland Rise in Dalgety Bay
Footpath improvements on Camps Road, Carnock
Renewal of the pedestrian crossing in High Street Inverkeithing
School Attainment and Achievement Reports
A summary report on the attainment and achievements of schools for the period of 2018-2019 has been presented to the committee members. This covers both secondary and primary schools serving the area: Inverkeithing, Dunfermline, Woodmill, Queen Anne and St. Columba's High Schools and associated primary schools.
Some of the highlighted achievements for the high schools include:
Inverkeithing High School
Five Year Trend (from 2014-15 to 2018-19), shows S4 Literacy and Numeracy levels above Fife and significantly above the National average, particularly at Level 5; the pattern is the same for pupils in S5 and S6
Attainment at Advanced Higher in S6 was the second highest in Fife
Queen Anne High School
Leavers at the point of exit from the school for the lowest attaining 20% and the middle 60%, was greater than the comparative schools.
the highest attaining 20% was greater than the Fife Secondary School Average
significant increase in the percentage of pupils leaving S6 with 5 or more Higher Awards. 35% of S6 pupils left last session with 5 or more Highers.
St Columba's High School
S4 Literacy and Numeracy has an improving trend over the last 4 years, with significant improvement highlighted in SCQF 5 Literacy and Numeracy
In S5, results at Higher have increased, in achieving 1 or more qualification at SCQF level 6, has increased by 5% since last session.
Woodmill High School
Strongest and sustained S6 attainments for pupils achieving 1 or more, 3 or more, 4 or more and 5 or more Highers in their S6. The strongest pattern in all measures over the last 5 years
Improvements in the number of our S5 pupils achieving 4 or more Higher Qualifications, the best for the last 5 years
Dunfermline High School
Second highest percentage of pupils in Fife achieving 5 or more National 5 Awards – 46%
Percentage of pupils achieving SCQF Level 4 and 5 Numeracy and Literacy Accumulated continues to be above virtual comparator schools for S4, S5, S6 and for Leavers
In regard to the fire in Woodmill High School it was mentioned that there had been a positive experience in St Columba's High School. The way the young people pulled together and integrated into sharing the building to maintain the level of education for the pupils.
It is important that children have a sense of wider achievement. Many have been taking part in Duke of Edinburgh Award, John Muir, Bikeability, and Natural Connections. Many are also involved in social enterprise schemes, working with local businesses to learn about leadership, management and the wider workplace.
Anti poverty measures operate across the schools to support struggling families. It is recognised that schools should get to know and understand the difficulties some of these families face.
Councillor Alice McGarry, committee convener said "First of all I'd like to thank the teachers, pupils and leadership teams within our schools for their continued hard work. This year has seen the additional stress caused by the closure of Woodmill and the impact that has had on everyone affected. I must commend all the work that took place to limit the disruption.
"These reports give us a good indication of where schools are improving their areas of attainment and achievement and identifying their strengths. They demonstrate how our schools are performing at a local level as well as a national level. This help us to see where more work and support is needed to effectively support school improvement".
Learning and development in the community
Fife Council community learning and development activity helps to improved life chances for people of all ages through learning, personal development and active citizenship. The aim is to build stronger, more resilient, supportive, influential and inclusive communities.
The activities include a whole range of activities aimed at wide but targeted audiences. Some of the projects included:
'Families Growing Together' is a family learning project brings families to come together work on activities in the community garden in Rosyth. Participants have said this has helped to build friendships, build a sense of community and help with anxiety.
'6 Pillars of Self Esteem' is a 6 week course. This helps individuals with their confidence and esteem, and helps them to identify aspects of their lives they would like to develop and improve on.
Employability courses, 'Springboard' and 'Key to Work'. These literacy, numeracy and IT Skills courses are delivered in the community by a Fife College community-based lecturer. This reduces the pressure on learners as they build their confidence. 54 learners have enrolled on this programme.
One learner stated "I came into Valleyfield Centre for a Foodbank Voucher, 6 months later I was picking up 5 Accreditation Certificates at the South West Fife Adult Learners Awards"
The 'Making Connections' project used theatre techniques to encourage marginalised women to build their confidence, increase their creativity and improve wellbeing through the use of expressive arts. By working together they devised and performed a play - 'Roxella -A story of Loneliness to Happiness" to friends and peers.
The YOSCARS. This event celebrates a variety of achievements made by young people. This included: over 50 volunteers some who clocked up over 500 hours; Bronze, Silver and Gold Youth Achievement Award winners; and Level 4 achievers.
Many of our young volunteers, project participants and MSYPs' first taste of youth work is through universal youth provision attending clubs within their local area.
Councillor Alice McGarry, commented "It's great to hear that despite the challenge of reduced funding our communities right across the South and West Fife area, are continuing to benefit from the hard work and dedication of the team. The examples presented clearly demonstrate the enormous progress that can be made by working in partnership. Building strong partnerships, sharing knowledge and skills, and sharing resources have allowed many more activities to be successfully delivered".
The Welfare Reform and Anti-Poverty Plan
The Welfare Reform and Anti-Poverty plan aims to help people who have been negatively affected by the welfare changes. The focused approach concentrates on four thematic areas; Employability, Health and Well-Being, Food and Fuel Poverty and Financial Resilience.
Due to the large geographical area of South and West Fife, some of the communities in south and west Fife have hidden inequalities that are masked by more affluent neighbouring areas. These can be poverty, social isolation or through poor transport links, fewer job opportunities.
Some of the many projects include:
Welfare reform workers currently operate 5 job clubs across south and west Fife. These help and support participants into work, but also help to address more complex issues. 89.5% of participants said they felt more positive about meeting their benefit conditions after being supported at a community job club.
The West Fife Villages Hub' offers residents of High Valleyfield and the surrounding area the opportunity to gain support and advice when in crisis, particularly around welfare benefits and sanctions.
Food insecurity has increase since the introduction of the new Welfare Reform changes. Oakley Community Café and Pantry operate from the Oakley Community Centre. Members pay £2 per week and can take 5 items from the pantry. The Hub in Valleyfield provides hot food and deliver Healthy Eating Takeaway sessions to an average of 27 customers a week. Rosyth Hub redistributed 4000kg of food this year and served over 2000 meals a week.
Kingdom Community Bank is working to re-establish the credit union sessions in the area. A launch took place in January and was well received. There are now weekly sessions in Oakley, Blairhall, High Valleyfield and Inverkeithing.