Published Date: May 13th, 2020
This article is more than 3 years old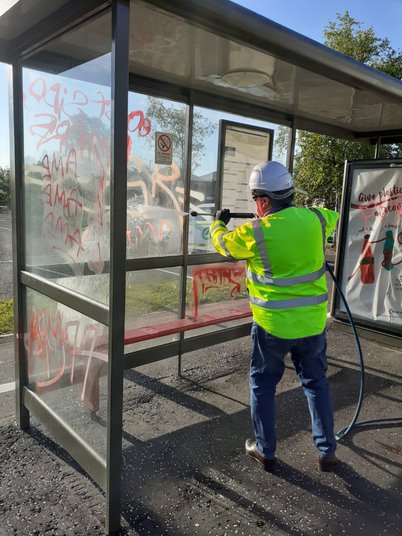 Following a spate of vandalism, the Fife Council Cleaning Team has been working flat out to remove a large number of unsightly graffiti tags that have appeared on buildings, vehicles, signs and street utility boxes across the centre of Glenrothes. Despite the current 'Stay At Home' instruction from the government, a small number of individuals have used this period in lockdown to deface their community.
The Council were alerted to the vandalism that took place at the beginning of May and the team have already removed over 60 tags in the area around North Street and still have other parts of Glenrothes to clean.
As well as pulling resources from other essential work, this clean-up is expensive and avoidable. Removal costs are now running at over £1300 but this will inevitably increase substantially with the continued work and the inclusion of police time spent investigating the offenders.
Councillor Ross Vettraino, Convenor of Environment and Protective Services , said "During the 'lock-down', Fife Council has been able to maintain many services and continue to support communities because of sterling effort of many members of staff, some of whom have switched roles in order to focus on the most essential services, and because of the effort made by many members of the community, who have changed their way of life in order to help as best they can.
"While most people are doing what they can to help, their efforts have been blighted by irresponsible individuals, who choose to deface Glenrothes with mindless acts of graffiti. These people are no more than environmental vandals who don't care about the environment or the people with whom they share it and their actions should not be tolerated under any circumstances.
"Anyone with any knowledge of who is responsible can help by calling Crimestoppers on 0800 555 111."