Published Date: Mar 27th, 2020
This article is more than 3 years old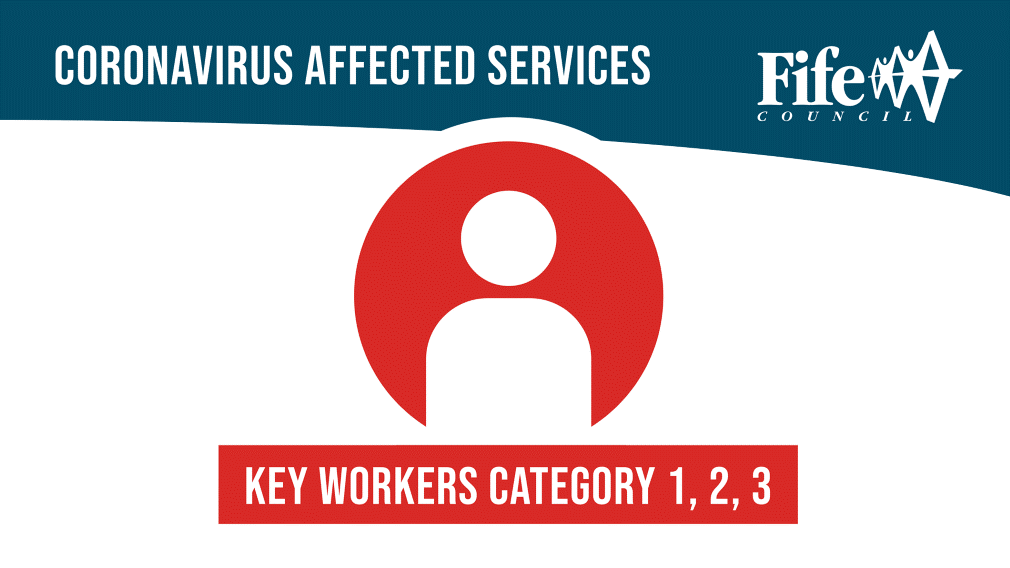 We now have more than 400 children registered with Fife Children's Activity Centres. Next week we will start accepting children of Category 3 workers.

Please be aware these centres are for the children of key workers who have NO ALTERNATIVE childcare arrangements.
The centres have been set up following the decision by the Scottish Government to close all schools, early learning centres and childcare facilities. Our centres are there to ensure that key workers can have access to childcare facilities to enable them to carry out front-line, emergency work supporting the COVID response.
The Scottish Government Guidance (https://news.gov.scot/news/supporting-coronaviruskey-workers) emphasises that to 'ensure front line staff in the fight against coronavirus (COVID-19) have access to essential childcare provision, employers are being urged to think critically about what staff are considered key workers'.
It is essential that the number of children, and therefore staff, in these centres is kept to a minimum, to support our effort to reduce the spread of coronavirus.
Therefore:
the priority must be for the most critical key workers' children.
only key workers who cannot fulfil their critical functions when they are working remotely from home may qualify for critical childcare provision.
children of Category 1, 2 or 3 keyworkers should only attend the Activity Centres if no suitable alternative is available to the key worker. This means either that BOTH parents/carers would be required to meet the criteria of key worker and be required to attend work at the same time (i.e. be unable to operate different shift patterns) or that the parent/carer is a sole parent that meets the criteria.
workers should explore with their employer all possible alternatives before requesting critical childcare from the Activity Centre.
children should only attend whilst their key worker parent(s) are at work/on shift.
where there is a sole parent or both parents in a Category 1 or 2 role these should be a priority.
workers who have underlying health conditions or meet the definition of the 'Risk' group and are therefore deemed to be at most risk must not be considered a key worker.
Category 1 – criteria – typically front-line Health and Social Care staff
Key workers include:
Health and Care workers directly supporting COVID response
Health and Care workers supporting life threatening emergency work, as well as critical primary and community care provision
Microbiology workers in Health directly supporting the COVID response
Workers delivering direct care to patients/clients in an NHS or social care setting (hospital, NHS practices, care home or homecare)
Care staff working in residential care homes for children, adults and older people
Care staff working in day care services for adults and older people
Social Care staff working in Care at Home Services
Essential workers at critical national infrastructure sites providing the most significant essential service provision to Scotland, such as fuel refineries, gas terminals, power stations and water sites
Workers providing childcare for other category 1 and 2 staff
Pharmacy staff including those working in Community Pharmacy
Workers providing NHS CallCentre response
Category 2 – criteria - all other emergency services workers
Health and Care workers, other than those mentioned in Category 1 above providing services that allow the health service to operate and ensure there are services and supplies for health care workers described above in Category 1
Wider public sector workers providing emergency/critical welfare services, for example Fire Fighters, Police Officers, Ambulance staff, Prison Officers, Social Workers
Those supporting Critical National Infrastructure, without whom there could be serious damage to the welfare of the people of Scotland e.g. cash payment, data systems, critical energy and water network roles
Those staff with a critical role in food, medical supplies and technology or medicines production and delivery
Category 3 – criteria – other critical services
Category 3 workers are those in local businesses identified as being involved in performing essential tasks, without which the continued running of the country would be compromised.
The advice for local businesses in Fife is that they should first make all efforts to ensure that arrangements for employees' childcare are explored within the organisation, before requesting childcare through the limited number of Fife Children's Activity Centres. This may include looking at shift patterns and alternative ways of working for a greater number of staff, thus allowing them to care for their children, without the need to access the FCACs developed by the Council.
Businesses should not contact Fife Council to request key worker status unless all other alternatives have been exhausted by the company or organisation.
Those businesses which have been identified as critical will have been notified and will be advising their key workers. These workers can apply for a place in an activity centre by contacting the Headteacher of their child's/children's school in the first instance.
If a parent/carer identifies their role as falling within category 1, 2 or 3, and application for a place at an activity centre is declined, they may wish to have the application reconsidered by using the email address education.services@fife.gov.uk, providing additional information to support their application. View the Scottish Government Guidance on Key Workers