Published Date: May 4th, 2020
This article is more than 3 years old
Two Fife Council bin lorries are now carrying the simple and strong national public message 'Stay Home, Save Lives and Protect the NHS'. The council's priority is keeping local people, communities and staff safe while also ensuring vital services continue to run. To help combat the spread of coronavirus and keep crews safe, new measures are in place.
Like other front-line essential services across the country, your bin crews are working in challenging circumstances.
Physical distancing means we now only have two of the bin crew in the lorry, and one following behind in a smaller vehicle when travelling to and from a bin route. Hand sanitiser and PPE equipment are available for crews, following government advice for waste collection.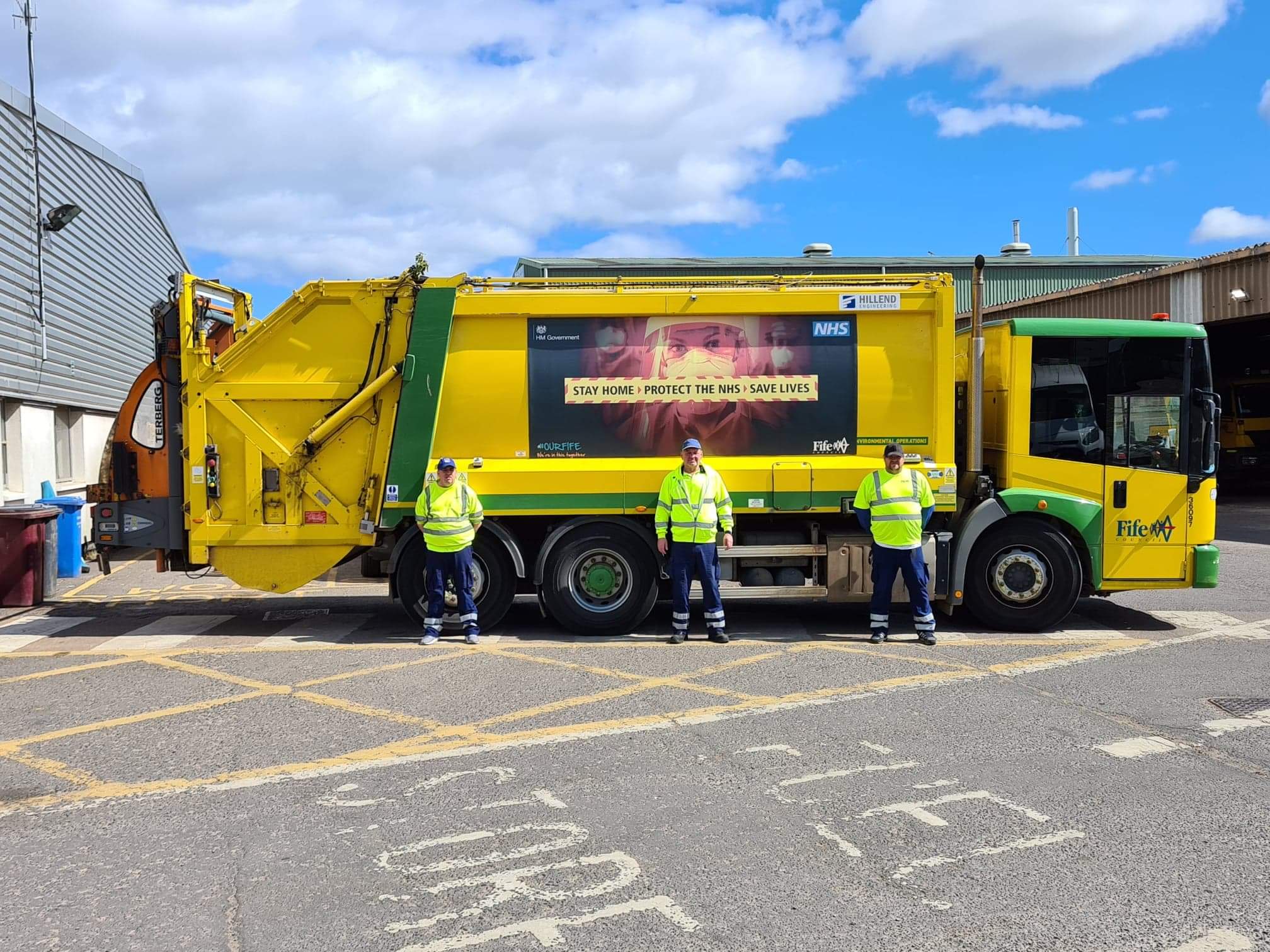 Ken Gourlay, Head of Assets, Transportation and Environment, Fife Council, said: "We'd like to thank Fifers for their support and their huge efforts in continuing to recycle right over this challenging period. The quality of the paper and card being collected is particularly good.
"We know that many people are struggling with all the changes that we are having to make to our lifestyles.
"There are a lot of people out there working through this really difficult time to deliver services that are important to us all.
"We know how much you value the waste collection service, so you may have noticed something different in the way our bin crews are operating. These new ways of working are in place to help our workforce to stay healthy and continue to deliver essential services."
Waste crews are working hard to maintain bin collection services as much as possible in these challenging times. The Council really appreciates support from the public in helping protect themselves and bin crews, by cleaning their hands before and after they put the bins out for collection, as well as keeping the bin lids and handles clean. Social/ physical distancing between waste workers and members of the public is being stressed.
Social/ physical distancing of a minimum of two metres between people is taking place, where possible, across the service, to help keep staff and residents protected.
We're also following government guidance that physical distancing can be reduced to one meter when it isn't possible to implement the two-meter minimum rule in the workplace - to maintain the safest working environment possible.