Published Date: Feb 20th, 2023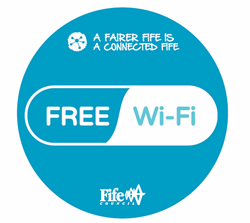 Background
In 2015, the Fairer Fife Commission produced "Fairness Matters" with 40 recommendations to reduce poverty in Fife. Out of these 40 recommendations, one of the top five was Connectivity. Working towards a fairer Fife means a vision from the council and its partners for a Fife which is connected. Achieving a key theme of the Plan4Fife, Thriving Places is about promoting 'digital towns' and driving the universal availability and access to the opportunities and benefits offered by digital technology.
Free Wi-Fi
Providing more free public access Wi-Fi points across the community and Fife Council buildings will help more people to get online. Being online is essential for taking part in life. Many services are moving to only be available online, from new bus timetables through to making a claim for benefits. One-fifth of those living in Fife are not online. This group is likely to be our own Fife Council housing tenants, over the age of 60 years old and living on a low income.
Providing a welcoming and supportive atmosphere in public buildings and Wi-Fi hubs to facilitate free online access will allow those with the experience of being digitally excluded or with few digital skills to be able to use the internet. Guests can use desktop pcs, borrow IPads or simply log in to the Wi-Fi to save using their data allowance on their own devices. This can help individuals who have limited data plans, especially those who are doing time-consuming job search or form-filling tasks.
Others can benefit by being able to help their children with their homework, look for employment, access health information, counsel and health services or simply keep up with what's happening.
Fife Council's free Wi-Fi is available at the following council facilities:
Public Access Wi-Fi hubs

Cowdenbeath

Kelty Centre

Maxwell Centre

Dunfermline

Tryst Centre

Glenrothes

Auchmuty Learning Centre

Kirkcaldy

Templehall Community Centre

Windmill Community Campus

Levenmouth

Buckhaven Community Centre

Methil Community Centre

NEF

County Buildings

Waid Community Campus

SWF

Parkgate Centre

Valleyfield Centre