Published Date: Dec 1st, 2020
This article is more than 3 years old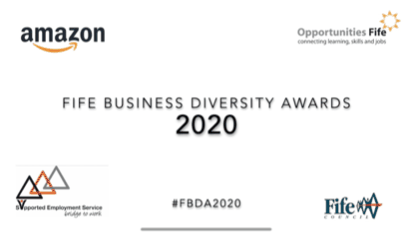 For the first time our Annual Fife Business Diversity Awards will be streaming live from our Facebook page on Friday 4 December from 10 am.
Fife Business Diversity Awards 2020 will be an opportunity to showcase the achievements of people disadvantaged by age, disability or circumstances in the workplace and employers who strive to promote Equality and Diversity within the workforce. Join us to hear about their achievements and the journey our winners have taken to beat the odds and find success.
This year's award categories are:
Achiever Award (Adult Category)
Achiever Award (Health and Disability Category)
Achiever Award (Young Person Category)
Employer Award
Innovation Award
We will be joined by some famous faces - both local and national and have a very special performance from local band Shambolics.
We guarantee this event will lift your spirits and inspire you to meet the challenges of 2021!
So please show your support and join us for what is our first Open Invite Virtual Event.
Fife Business Diversity Awards is hosted by Fife Council's Supported Employment Service on behalf of Opportunities Fife Partnership.