Published Date: Feb 18th, 2020
This article is more than 3 years old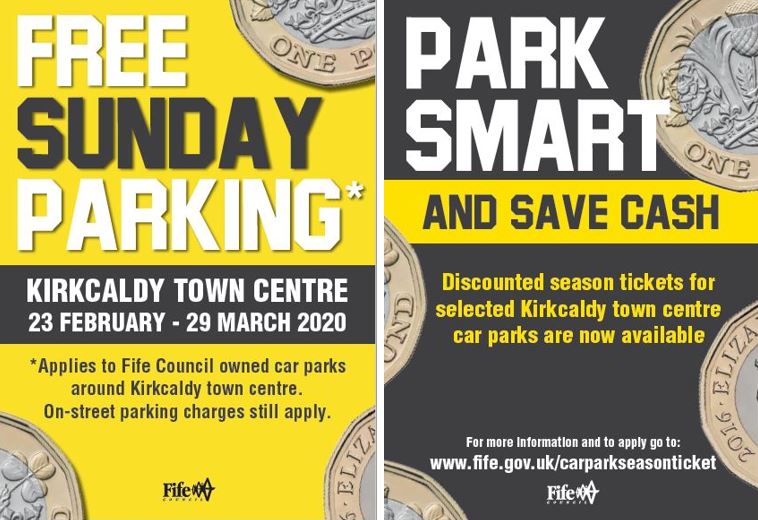 Car parking continues to be a hot topic in Kirkcaldy town centre, with everyone having something to say, and Kirkcaldy Area Committee is listening!
As part of the existing car parking pilot and plans to help breathe life back into the town centre, Kirkcaldy Area Committee has decided to use the £28,000 it has been given by Fife Council, to extend the discounted all day parking season ticket until the end of this year. It was initially launched in October last year. This ticket be used at selected car parks – The Kirkcaldy Centre (formerly The Postings) The Esplanade (car parks A and B), Hill Place and the multi-storeys. As well as this, it has also agreed to fund free off-street Sunday parking from 23 February up to, and including, 29 March.
The extension of the discounted car parking ticket and free six-week Sunday off-street parking trials is to see if these could help make a difference to, and potentially increase the number of, people visiting the town centre to make Kirkcaldy the vibrant and thriving place it can be.
The discounted season ticket is £60 a quarter which is £20 a month, that's less than £1 for all day parking.
The discounted car park season tickets are on sale now.
Councillor Neil Crooks, convener of the Kirkcaldy area committee, said: "When it comes to local matters it's the locals who matter, and who are best placed to influence what happens in their area. From the feedback we've had from the ongoing placemaking consultation, which includes parking, as well as directly from residents and visitors we know that car parking continues to be a concern for many. We're listening to what we're being told and as promised, we're doing something about it.
"We can see from the initial pilot that the discounted season ticket is benefiting those who work in the town centre, students and regular visitors. People are buying the ticket to get cheaper parking and direct access to the heart of the town.
Cllr. Crooks continued: "We also want to give people choice, so anyone who wants to buy the existing car park season ticket for £130 per quarter can still to do so. The advantages of buying this season ticket is that you can use it in any of the long stay car parks throughout Kirkcaldy and the rest of Fife.
"Last year we said that we'd keep looking at other car parking measures and, as part of our commitment to this, we're also providing free off-street parking to anyone coming to the town centre on Sundays from the end of the month until the end of March.
"We hope that by using the £28,000 to trial these different parking options we can get a better idea of what we can, and must do, on a more regular basis to breathe life back in to the town centre."
Applying for a season ticket, discounted and regular, is quick and easy. You can visit www.fife.gov.uk/carparkseasonticket or you can do it over the phone by calling 03451 55 55 55 ext. 480208 between 9am-4pm. Your ticket will be posted out to you or you can arrange to collect it from the Town House with notice.