We all agree Our Fife Matters and that we must all work together to find a solution to the climate emergency.
Along with our partners, we're committed to doing everything we can to help create a safer and cleaner environment, including continuing to invest in greener travel options. eFife is a project that supports Fife's electric vehicle network - from the vehicles and charging points to promoting the benefits of Electric Vehicles (EV) along with grants available to help buy one.
So, would you consider an EV for your next car to help lower Fife's carbon footprint?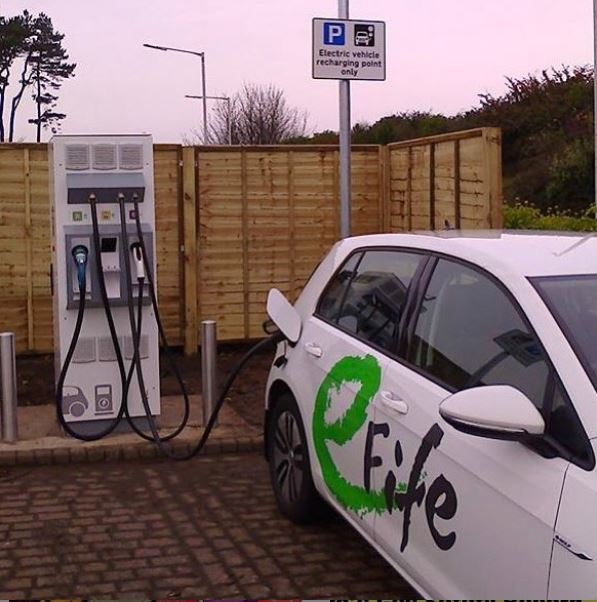 There are many benefits to having an EV including:
Spending less time and money on servicing – electric cars have fewer moving parts
Cheaper to run (compared to an average conventional vehicle)
Zero Vehicle Excise Duty for electric vehicles costing less than £40,000 new
A quieter, smoother drive
Dealing easily with stop-start traffic
Zero CO2 exhaust emissions
The option to rent rather than buy a battery – so it's easier to replace
And with EV loans and grant support from Energy Saving Trust Scotland for charging facilities available, it's getting easier every day to go electric.
Click here for the link to the EST Scotland site, for more information.
While we're not considering on-street charging points at the moment, we appreciate your feedback and will collate it for future developments.
Remember, it's good to share, so don't stay at a charger for longer than you need to charge, especially a rapid charger. And don't park an Internal Combustion Engine (ICE) car in an EV parking bay!
An Etiquette Guide on using Electric Vehicle Charge Points is available from ChargePlace Scotland.
To find out more about all things relating to Electric Vehicles and charging points, the EV Association Scotland has lots of information.
For further information contact us by email: travel.plan@fife.gov.uk
Please note that parking bays with EV charging points are for charging only, not parking. Any non EV or an EV not connected to the charge point will be liable to a Penalty Charge Notice.