Every business has a legal responsibility for the waste they generate.
Section 34 of the Environmental Protection Act 1990 (as amended) require that businesses must 'prevent the escape of waste'.
This means you must:
Store your waste in a secure place and use suitable containers, in good condition, to prevent your waste escaping.
Ensure that any escaped waste is picked up and disposed of by yourself or a member of your staff. You are responsible for any pollution and litter caused by materials that come from your site.
Ensure that your waste containers are presented with closed lids and secured i.e. locked to prevent the escape of waste and to ensure that others (including animals and birds) cannot tamper with your waste. Please see examples of waste presentation below.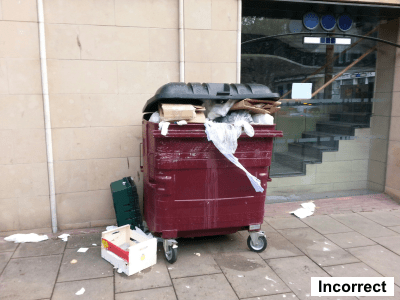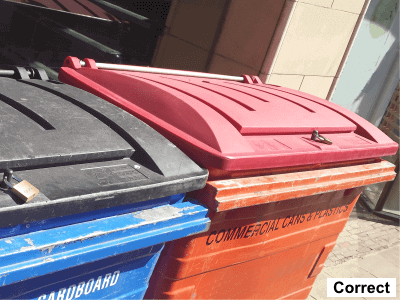 Waste and bins on the street
Commercial waste containers are not allowed to be stored on Fife's roads and pavements.
Businesses must store their commercial waste containers at their premises at all times (except when they are out for collection).
Commercial waste containers must:
Be returned to the business premises as soon as the commercial waste has been collected.
Not be left out for collection longer than is necessary.
Only be put out for collection on the day of uplift arranged with your waste contactor.
Only be placed on the street when the business is staffed and not overnight.
Be placed as near to the edge of a business' property as possible, whilst ensuring there is pedestrian access, whilst waiting to be emptied. You must not block the pavement or road.
Limited space to store waste container/s at your property?
Speak to your contractor about other options for example:
Reducing the size of your external waste container/s
Increasing frequency of collections
Consider sharing bins/storage space with neighbouring businesses
Opting for waste sacks (we advise that these are presented in a gull proof bag)
Gull proof bag
A gull proof bag is usually a large sack made of thick plastic that holds a number of standard sized waste sacks, it allows your waste sacks to be stored inside when left out for collection.
The gull proof bag will prevent your commercial waste sacks from blowing away or being punctured by seagulls or other pests causing a mess, which your business is responsible for.
Missed Collections
If for some reason, your commercial waste contractor cannot collect your waste. You should remove your waste from the street, return it to your premises and contact your waste contractor to rearrange collection. It is not acceptable to put your waste out and leave it; this is a failure in your duty of care.
If you have additional waste, here are a few things you can do to keep within the law!
Do not allow your bins to overflow – speak with contractor regarding presenting additional waste on your next waste collection
Use gull-proof bags – to present additional waste for collection (this will prevent any litter from your business – you are responsible for litter that comes from your business)
Flat-pack any cardboard and flatten any packaging – this will reduce space taken by additional waste
Bin Security
Increased incidents of people tampering with waste or worse sleeping within waste containers mean businesses need to ensure they take responsibility for ensuring their waste containers are secure, for example locking the bins up.
Please contact your contractor and make arrangements for lockable bins (if necessary)
The Health and Safety Executive (HSE) provide advice on the steps businesses should take to keep themselves and others safe.
Help and support
We understand some businesses may find it difficult to store their waste containers at their premises. If you can't find a solution and require further advice or support please contact us on the details below.