Here are some helpful visual resources for supporting children and young people with Autism Spectrum Disorders and other Additional Support Needs.
Understanding and explaining Coronavirus
Below are some social stories to help your child understand the Coronavirus. Click on the images for more details
Boardmaker visual symbols are relevant to discussing and explaining the Coronavirus pandemic and symbols for handwashing routine. Click here to download a PDF version.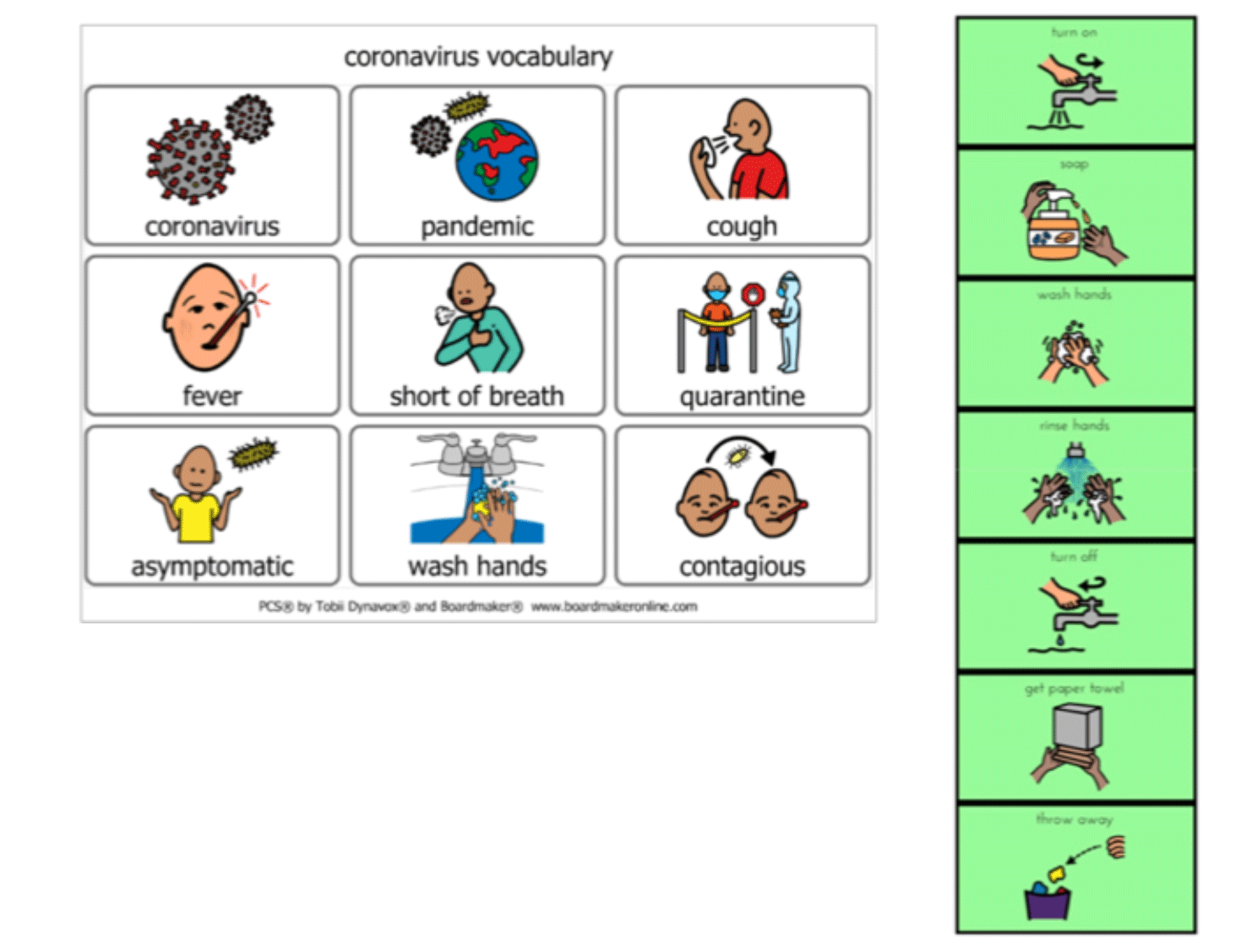 Resources to support your child working from home
School closure toolkit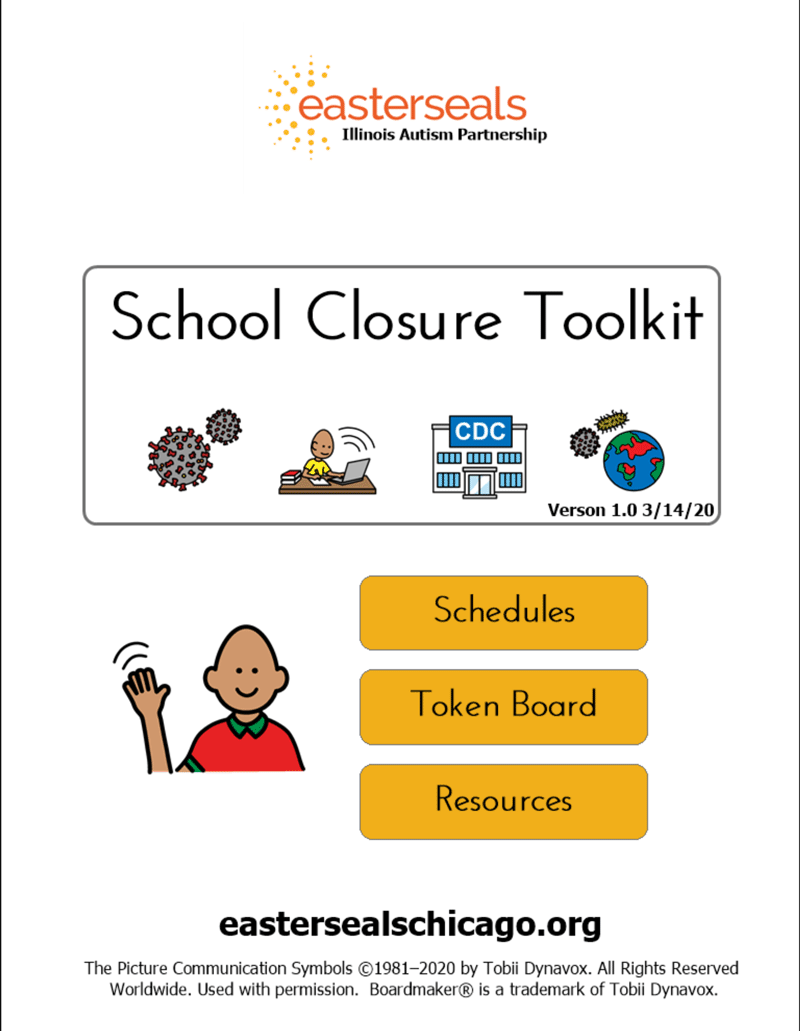 A helpful guide including visuals to support home working following school closure - from Easter Seals Illinois Autism Partnership.
Click here to download the school closure toolkit
Using a visual countdown
It is important to prepare your child for changes and transitions. They find the world very scary and unpredictable. Using a visual countdown helps them to process a change that is coming up in their day. A visual countdown also helps to show the passing of time - this is a concept that a lot of Autistic children find difficult to understand.

Step 1
Cut 6 pieces of paper and write the numbers 1 to 5 on them and a thumbs-up symbol on the final card with 'finished' written on it

Step 2
Present the countdown to your child, using consistent language.
'5 and then were finished'/4 and then were finished etc. Remove the number from the table. Card No. 4 replaces 5 etc.
5 is not a measure of minutes, the whole countdown could last 1 or 2 minutes or could be strung out to 10 minutes depending on how much time your child needs to process the change.
Make sure that the countdown is acknowledged. Get down to their level and show it to them. Remember that verbal language may be difficult to process so it's important that they see the visual too.

Step 3
When you get to the finished symbol, encourage your child to finish what they are doing and to engage with the next activity on their visual timetable or now/next.
Wait for them to follow your request. Continue to use consistent language throughout so they aren't having to re-process what you are saying. '…………is finished'.
Let them remove the 'now' symbol and put the next one up and transition to the next activity. Try to be consistent with this at every transition, so the pupil gets the time to process the change that is happening.
Visual Schedules / Day Planner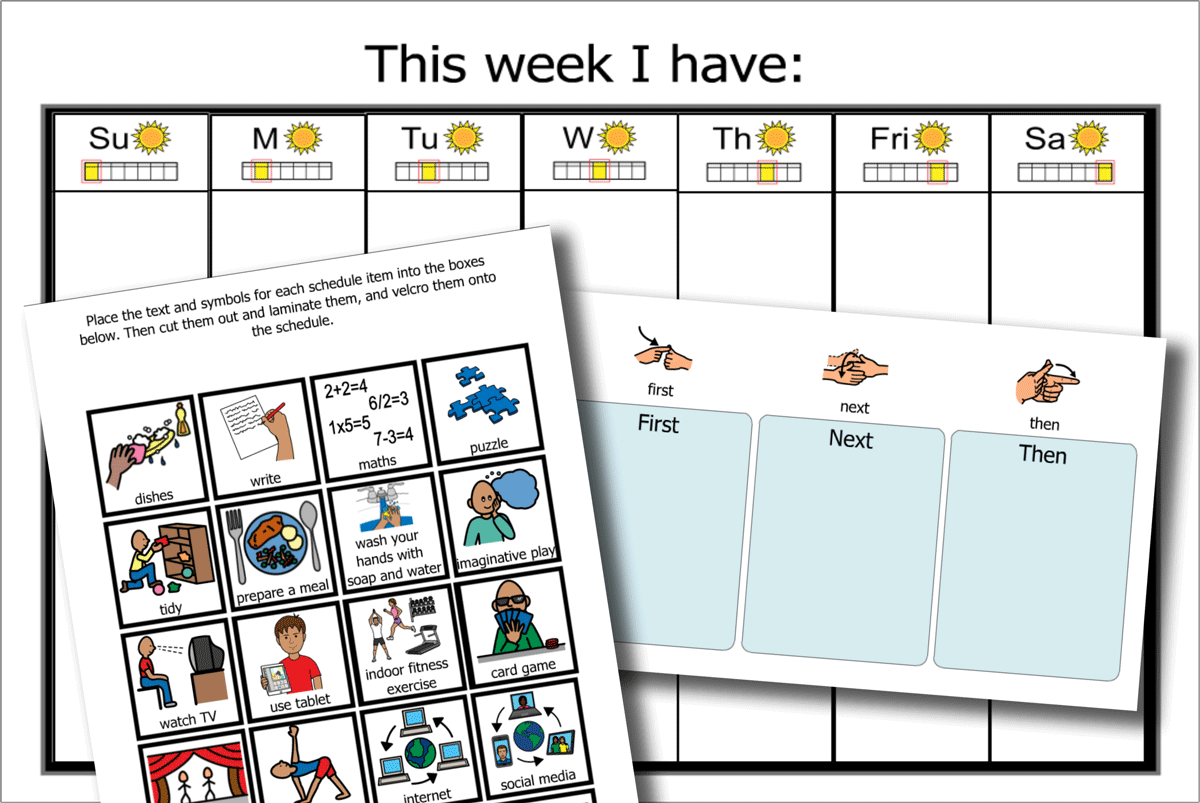 Click here to download a Weekly Schedule, Symbols, Now & Next
A special thank you to ASIST for supplying the above information.
10 Top Tips for Parents and Carers
Guidance for parents and carers in the event of school closure due to Coronavirus
The situation we find ourselves in is unprecedented, and we are all working out how to process and deal with the practical and emotional impacts.
Children and Young People look to adults to help them work out the seriousness and ways of dealing with challenging situations. They will be looking at and learning from your response(s). Seeing you staying calm and resilient will be crucial in helping them feel reassured, contained and able to cope with the circumstances.
It is very important to maintain structure and routine for your child whilst schools are closed. Below are some tips that will help you to maintain your child's health and well-being.
Reassure children that they are safe, but that it is OK to be upset Provide opportunities for children to be honest about their feelings. Listen and explore these questions with them. We need to help children understand their feelings and emotions, by using emotional language and giving them an emotional vocabulary, we are enabling them to understand their feelings and other peoples
Maintain a normal routine Set times for getting up and going to bed for your child and have regular times for meals
Build-in time for fresh air and exercise as far as this is possible Exercise releases natural hormones which help us respond to stress and anxiety
Structure your child's day so that they have a variety of activities and break times Create a menu of activities that your child can do during the day
Make a daily plan of activities Plan these with your child the night before so that you and your child know what is happening the next day
Review the day's activities and talk about what they have done A sense of accomplishment is important for children and young people
Make Monday to Friday different Make sure that there is a structure and routine to activities Mon-Fri similar to a normal school day. Also, make sure that the weekend remains the weekend!
Decide when and for how long your child will have access to electronic devices and for what purposeAgree with your child how long they can spend on electronic devices and for what purpose – learning or leisure. It's important to have a positive balance.
Place an emphasis on resilience and strengths Help your child to understand their many strengths and abilities to help them cope if they are feeling anxious or upset. Encourage opportunities for your child to maintain social contact with friends wherever possible – via phone, social media etc.
Look after yourself During times of stress we are more vulnerable to illness. Make time to do things that help you feel calm and build this into your own routine.
Remember that your child will be learning from your response to handling this situation. Seeing you staying calm and resilient will be crucial to helping them cope with the circumstances.
---
Some helpful links

SAMH - Scottish Mental Health
There are things we can do to look after our mental wellbeing during this time. On this page, we are gathering the information, links and resources that we can, to help keep you informed and protect your mental health. Click to read more… https://www.samh.org.uk/about-mental-health/self-help-and-wellbeing/coronavirus-and-your-mental-wellbeing

Mental Health Europe
Good mental health and positive wellbeing can help you better cope with the COVID-19 threat and the uncertainty it's creating. There are many ways to keep a sense of control in order to ease coronavirus anxiety. Click to read more… https://www.mhe-sme.org/covid-19/

Mind
This might feel difficult or stressful. But there are lots of things you can try that could help your wellbeing. This information is to help you cope. Click to read more... https://www.mind.org.uk/information-support/coronavirus/coronavirus-and-your-wellbeing/